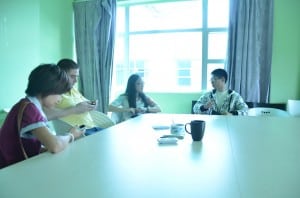 Please bear with me, no video / voice yet in this interview….but its my first effort in interviewing some of these facinating Chinese based Chinese ecommerce (export driven) companies I am coming across.
Yesterday (Tuesday) in Shenzhen we took about an hour drive up to the outskirts of the city (Bao An) to a new place I had never heard of "South China City" which is a massive marketplace for textiles and fashion and packaging. We met with an ecommerce company, Oasis International Gmhb that is selling B2C directly from the HQB Hua Qiang Bei electronics market) and surrounding factories to mainly the German and European market.
The interview was mainly in Chinese, but I was able to ask some questions in English and with their limited spoken English it was answered.
There are 3 Chinese owners, the main owner we talked to was Lu Haichuan, that is the top ebay China seller both in 2007 and 2009, in sales volume.
The owners spent between 7 to 9 years in Germany before returning to China in 2007 to do this ecommerce business. They have an overseas warehouse in Germany, as well as a warehouse in China. Have German staff in office in Bao An. He had 2 million us dollars after his first year.
One amazing thing was his limited spoken english. I may hold it for another blog topic, but again and again I wonder how much language plays a part in ecommerce business. Seems its much more about process flow and management than language and sales.
After a tour of the 3 floor office, that was very sweet – Euro- designed. Was upset I didn't have a video…that has to get on this blog soon.
Distribution model: Do you offer dropship services? Affiliate ? – Currently do not offer drop shipping or affiliate. But instead use multiple domains with website shopping carts. Used to sell on eBay. Now focus is on his own webstores.
What are your Main products all types of products, but electronics and fashion mostly.
Why Bao An district, Shenzhen, China location? – the owners were originally working B2B with factories in the area, and learned the B2C from China direct opportunities
How many staff Over 300. 40 in hua qiang bei. 260 in Bao An district.
Do you have your own brand not yet. currently selling no-brand or other brands.
What are your future goals increase sales. Both by adding products as well as purely increasing sales. no plans to add distribution. Just purely focus on increasing sales and products with current flow.
Definitely an interesting time to talk to businesses, and learn from them and see what makes them successful.
We plan to see 1 new company every week. So stay tuned…I promise I'll improve.