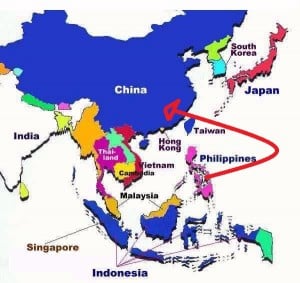 It sounds really cool, but it does get exhausting! Tuesday afternoon I'm flying back to Hong Kong. What is even more wild is I'm not sure where I'll be sleeping on Tuesday night – Hong Kong, Shenzhen, or Zhongshan, as there are a few projects and schedules I need to firm up tomorrow.
Can't believe its almost been a month here in Manila, Philippines. It has been a successful time for sure, training new staff here, have a new bookkeeper to help me with quickbooks, met tons of business people, and learned even more detailed and interesting facts about business in Philippines and the culture.
I have learned a lot in business over the years, and one of the biggest is DO YOUR RESEARCH and don't rush into something. These next few months – Philippines, to China, then 2 months in USA will be exhausting, but after its all said and done, I surely will have developed the plan for a few more years.
People keep asking me, where am I going to live, am I going to travel the rest of my life? Well, right now, I have these 3 months on the road and that's what I am focusing on! I am focusing on business development, learning to trust others to manage certain parts of the business while I'm on the road, and trying to scale things up globally. Balancing basically 2 businesses, a service based business helping people promote websites (SEO), and international ecommerce of bar products. I guess from that there are tons of business "pieces" such as outsourcing call centers, product sourcing from China as a service, that I have gained experience from overseas, which I am also working on developing as businesses as well but:
1) MANAGEMENT – Have been testing "letting go" of daily operations so that the businesses can grow, allowing me to develop them better rather then micromanage, and also have trusted people who can manage those offices while I'm away. Again, its SCARY, takes trust, and responsibility from those people. But so far, feeling positive and once my USA travels are over I will know how things stand.
2) FOCUS – Always my weakness, but seems many entrepreneurs' weakness as well. Especially internationally, seeing so many "gaps" between countries….its screaming OPPORTUNITY, OPPORTUNITY. But I have gotten stronger at not jumping at everything I see, while I do consider them, I need to realize I have to "chew and digest" those opportunities I do "bite on".
But again, I am maximizing the benefits of today's online business environment. Really, there are so many tools to virtually manage business processes….it does take active effort from you and your team and your customers in order to implement them….but I have to keep pushing in order for everyone not to get lazy and go back to the MILLIONS of emails back and forth, that get lost, mis-prioritized, mis-understood, and stressed out.
The scary part is I don't have a firm schedule in China this next month. A friend, Hasan, is coming from Pakistan to Hong Kong and Shenzhen end of the month. My friend Huck is opening a new sales office in Shanghai and keeps pushing me to visit and talk about cooperation. I don't have an apartment at the moment either. Living off a laptop and a backpack.