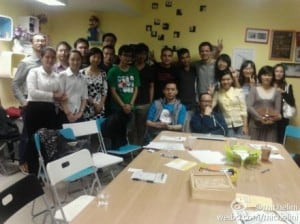 Yes, there are actually networking meetings on a FRIDAY night! Every Friday night, they have been hosting these events. Its all Chinese people, Chinese language. Below is the description they gave me:
Shenzhen SYB (start your business) entrepreneur club is starting!

The SYB club was found in Shen Zhen in August 2011 to existing and would-be Entrepreneurs with a regular weekly event for intellectual exchange and networking opportunities. Every week, The SYB club strives to provide skills young entrepreneurs need to learn and opportunities for them to share their ideas. The SYB club also invites a leading entrepreneur every week to share their personal story and insights on what they did right and what they could have done better and to exchange ideas through a lively Q&A session.

Venue:Room 1503-1504, RuiSi center, NanShan Dist (Golden building near MTR exit C1 of Window of the world)
Time:7:30-9:30pm, every Friday
Map:
Rafael and Amy accompanied me, CC Lo was the one who introduced me to this group, run by Kingdom Kwok, who is a stand up comedian as well! We had been talking in emails about my speaking there for months, started since I was in USA.
from cc lo
to Michael Michelini
date Tue, Sep 27, 2011 at 12:18 PM
subject Speaker Needed

Michael,

One of my friends who is a talk show speaker just phoned me. They are holding a party which host for any kind of presenting with only one purpose – the speaking or performance has to be thoughtful. It's going to combine the punch party spirit but it's more open. Besides speaker sharing, forms such as short dramma and performance art are also welcome.

When they asked me if I know any speakers, I thought of you the first moment. Will you like to be a speaker in their party?

I await your response.

Peace.
Cc
Again, CC has come through as a super connector and networker – her and I had been working together on events earlier in the year, having a large ecommerce salon with over 100 people this past March.
But, to be honest I was a bit….questionable about what topic to speak about, asking Kingdom in email:
Anything about starting a business is ok, cuz all my members are either existing and would-be Entrepreneurs, age from 25-35.

15-25 min sharing plus 10 min Q&A is ok for you? ppt or no ppt is up to you, we have the equipments if need.

btw, most of our members don't know English well, so you can bring a friend as a translator, or i can do translation if no one is available.

bring 1-2 friends is ok.

BR!
Kingdom
So I came with a whole variety of PPT (powerpoint) and asked what would be best….they chose the presentation about my experiences opening a business in Shenzhen, China which has been a popular both in Hong Kong and Shenzhen startup groups.
But this was the first time I was speaking to a Chinese audience. I had to change it up a bit. It was still applicable to anyone "fighting" to get business started, and the ups and downs and developing what you are truly meant to do in business and in life. People like the real story.
I think Chinese people are so curious, they were jumping in with questions. I mentioned some of my issues why I had problems in my business. A few said I have to have a trusted Chinese business partner. Some laughed about the tax receipts, government filings, employee management issues.
Some asked if my open office "western" style was successful, and I thought….no….its not the same in China.
I said how that in China, you have to listen to the locals, cannot "Change China" and that this is one reason all the previous foreign internet companies have lost.
Took a fun group photo at the end for this blog post. I am glad to see this creativity and group meetings in the Chinese community. Take risks and not be afraid.