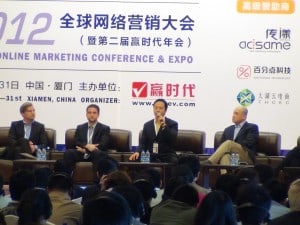 Been attending this major Chinese internet marketing conference since march 2009, have met so many people, and learned so much during these 2 short days…I can remember how nervous and anxious I was when I attended my first conference here…now I see familiar faces and know how it will go so am now I'm completely prepared.
Presented on a panel forum with an audience of over 1,000 Chinese internet marketers, took photo up on stage (attached in this blog) – actually got a lot of feedback on that photo on Sina Weibo, and other panelists asked for the photo to be emailed to them.
During the panel, I again have been practicing my mandarin and introduced myself in Chinese. But still, now more than ever I WANT to learn Chinese. While my friends and those blog readers out there say I am doing too many things, it is somewhat clear that I am connecting USA + China in the e-commerce and internet sector. I am also well known for english social media training in China, and got a good question from the 1,000 large audience on how Chinese factories and e-commerce companies can better promote their social media accounts to the western world.
my answer – STOP PUSHING, and start pulling, get your visitors to share your products on their social media. To give them a chance to share the products they like to buy, or have already purchased on their facebook or twitter stream.
The final question for the panel was how they would do their chinese internet marketing in 2012 – my answer was get my foreign friends to sign up for weibo!!
In the afternoon, I was the host of a subsession "how foreigners can do internet business in China". Below is a quick write I did while in the session on Friday. There are powerpoints and tape recordings that I'm trying to find how to share here. But for now:
ICP license and China hosting
Consultant of Internet Society of China, HiChina
Mr. Bridge Song
For those of you not sure, ICP = internet content provider. To host information in China, and promote in the Chinese language , you need to get permission from the Chinese government. When Google China stopped complying with the Chinese government and left, they didn't abide by this ICP license…. It doesn't matter if you have a .com.cn .cn or .com domain, if its targetting Chinese people then you need to get a proper ICP license.
There are services for buying an ICP through an agent, the fee may be at least 10,000 – 15,000rmb depending on your website and the agent you are dealing with.
Sometimes people don't register an ICP and then later want to register. There is a 2 week to 1 month filing time when the Chinese information bureau has to screen all your previous content before it can be hosted inside China. Sometimes you may want to change .com to .cn during this process.
For applying the for the ICP license…this talk when on forever in the audience, with the attendees, with the speaker… commercial (e-commerce, selling advertising), need 2 bureaus to approve. If non-commercial, need only 1 bureau. It takes between 2 weeks to 1 month
Building traffic in Baidu. How it's different from Google SEO?
Allen Qu, CEO of Netconcepts China
Allen is awesome, and he had a very detailed powerpoint comparing Google to Baidu. The main takeaway, is that you must pay Baidu to get traffic on hot keywords, that even if you do rank for organic SEO on Baidu, if its a hot keyword, the PPC will dominate the fold of the page completely. you also need to be aware that you should signup for all of the Baidu web properties (google is doing this more and more though, with Google+, Google places, etc).
Quick notes I took is weibo is integrated deeply with Baidu search. Use index.baidu.com, Baidu open platform, Tongji.baidu.com analytics.
Choosing a brand in the china market.
Chris Wieners, VP of Hogo Digital
Should you get the .cn of your USA company, or get a new .com brand?
Chris went through the differences in web design and outlooks of Chinese websites from western websites. Also explained the difference in video marketing, in Chinese video sites, you cannot link back to your website, so you should rather link to your homepage of your video site, and build virility and branding with the video – instead of direct website traffic.
Many people say weibo will have a paid business account service soon
We went through a lot of questions in the audience, and Dennis and Joyce, the VIP guests in the room got some awesome feedback, targeting directly for their allrecipes.cn website. They were a bit overwhelmed, and realized that they need to treat China like its own company / department – separate completely from the other countries.
I love coming to this SEO conference, its my 4th time, and planning to really help promote next year's with plenty of advanced notice – I had many American and foreigner friends who wanted to come, but I just started promoting it only about 1 month in advance.
Finally, things are making sense in my business career! These events (both TimeV in Xiamen for domestic China Internet Marketing, and HeroMeetsHero for export B2C Chinese e-commerce), combined with consulting Americans how to do business inside China.