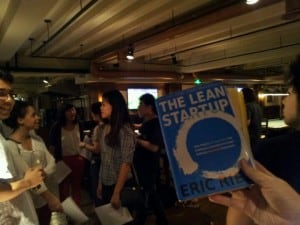 I've been involved with 6 Startup Weekends (well, 2 BootUP!, in Hong Kong) and I have the "startup fever" that seems to be taking over the world lately. Startup Weekends everywhere, meetups, communities in all small cities worldwide. It gets me so energized. Empowering the people!
One of the main reasons I picked these specific dates for my long awaited trip to Shanghai, China was for this Lean Startup Machine. I was a bit hesitant to go, as maybe its a "competitor" to Startup Weekend. But when I was in Startup Weekend USA headquarters they totally supported it, and my going was seen as totally awesome.
I really enjoy ATTENDING. I have been hosting and facilitating the past Startup Weekends, but I really enjoy being "the man in the arena", the entrepreneur. The risk taker.
I have read and I love the book "The Lean Startup" by Eric Ries, and this Machine weekend is built to help you practice and implement what the book preaches. I'm hoping to use it for my new business / division Weibo Agent lets see how that goes, if I can get a good team, good traction, and flow!
and man, this Lean Startup Machine booked up in less than 1 hour! I was amazed, they opened registrations last week at noon on Wednesday, and by 1pm, it was fully booked with 70 entrepreneurs. I found out about the registration by 3pm, and it was full… Eric Weiland, China Community Empowerment at e8 Resources hooked me up with his ticket! You the man Eric!!!!
here is the email for tonight's (Monday as I write this post) pre-event meetup.
Congratulations!

You're on the list to participate in the Lean Startup Machine. Due to the tremendous interest in this event, you MUST CONFIRM that you will be able to come to the Lean Startup Machine. The Lean Startup Machine is a three day event (Friday – Sunday). If you cannot make the commitment please allow someone else who is interested to take your place.

Lean Startup Machine Warmup Event on Monday, June 25th

We are going to have another warmup event on Monday.

Meet other Lean Startup Machine participants (potential teammates!)
Talk about your ideas
Ask questions about the Lean Startup Machine event
Learn more about Lean Startup

Location:
Shanghai Brewery
15 Dongping Road (Near Hengshan Road)
7:30 – 9:30

We will be sending more information to you shortly.

Full Event Schedule: http://www.techyizu.org/lean-startup-machine-2012-schedule/
Tonight (Monday) we talked about team building of 3 – 5 people. There is more lectures and teaching in this lean startup machine weekend versus what I have witnessed from doing Startup Weekend.
I first heard about Lean Startup Machine from the post of Lean Startup Machine on Green Drinks China, and below is the full details I got:
Lean Startup Machine is coming to Shanghai on June 29 th – July 1st
What is Lean Startup? Fundamentally, it hopes that entrepreneur can avoid wasting energy along the path of building a sustainable business.
The methodology wants to empower startup with a scientific approach to build a product that people really care want. The driving force behind this approach is that the only way to win is to learn faster in order to validate your hypothesis on :

your product
your business model
your engine of growth

The way to achieve that is to perform rapid prototyping (or Minimum Viable Prodcut) of your product and validated your learning with your customers early on in the development process. During the process, the methodology heavily insist on the fact that entrepreneur need to get out of the building and go talk to customers to get feedback that can help drive the next iteration.
Once you have validated your learning between each iteration, then you decide if it's time to pivot or persevere.
Notable companies employing Lean Startup include Instagram, Facebook, Etsy, Heroku, Dropbox,Twitter and Zynga.

Lean Startup Machine
During the Lean Startup machine, you will be introduced to Lean Startup concepts used to build products that customers want. Through workshops and mentorship, select participants will have the opportunity to define their Minimal Viable Product (prototype) and "get out of the building" to talk to customers to validate the assumptions behind their MVP.
The real goal of the weekend is to let people understand the importance of having a customer-centric approach because ultimately, they are going to be users of your product that will solve a problem for them.
At the end of the weekend, all the teams will be invited to share their ideas and experiences.

Lean Startup Warmup (June 7th):
If you are interested in learning more about Lean Startup methodology and Lean Startup Machine, Techyizu will host a Lean Startup Machine Warmup on Thursday, June 7th. The event is in English and is open to the public.