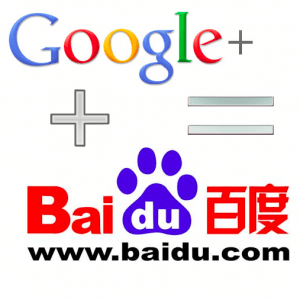 Overall I like Google…but I can't help to think they are getting to be more and more "evil" as an overall brand feeling.
Chinese Currently People Respect Google
it took a strong stand with the Chinese internet filtering at the beginning of 2010, ending up exiting the Chinese market. They didn't have the government relationships and no longer agreed with the government to filter like Chinese Baidu search engine does.
But recent developments in the Google search engine remind me more and more of Baidu and Chinese internet….
And this is also after earlier this year's Google update called Panda (which, ironically is China's icon animal) that filtered out a lot of spam and high volume links, but a lot of websites that were affected were English language Chinese export driven sites….that did actually slam a lot of Chinese businesses bottom line.
But still, my overall evaluation of the Google brand in China is a positive one, the people respect it.
I enjoy discussing similarities + differences I notice between Chinese and American (western) internet.
So What Is Changing in Google?
For those who aren't watching current changes in Google's search formula, today they announced Google gets more personal with Search plus your world that basically means people will now see results from their own social media accounts and their friends accounts….
Which is FINE, except…
These social media accounts currently are Google owned properties – Google+ and Youtube.
But Google says twitter and other social media platforms can feed to google….but ….we know that Google + Twitter discontinued their deal earlier this year….over terms that are not publicly available.
One can only assume Google used to pay Twitter for access to this data, but decided no longer to pay, or pay as much, and invest in its own social media property, Google+.
Using its strength to overturn the little guys.
So How Is Google Becoming More like Baidu?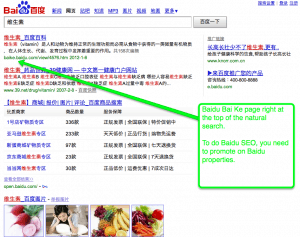 ParisLemon calls the currennt google update "AntiPlus" which is a spin on Anti-Trust and "Plus" for Google+ …. Chinese search engine marketers know that the most effective way to do "Baidu SEO" is to sign up for all the Baidu platforms and put your business information / content / news on these Baidu owned properties.
In the attached screenshot, you can see a search for "vitamins" in Chinese on Baidu search engine, and the top ranking page is a Baidu owned property website, Bai Ke, where most likely a majority of the click traffic is directed. Therefore, if you are a search marketer in China, you want to have your content / advertisement / brand on this page.
In order to get internet exposure in China, you most likely need to pay Baidu for advertising, and place your content on Baidu owned web properties as well.
I see this trend happening in USA with Google's recent moves.
But In Google's Defense…
The internet is changing….and tons of people are studying to "game Google", buying links, link sculpting, spinning, automating. Social (human) filtering / crowdsourcing search is the best way. It is in Google's best interest to keep quality of its search results. We don't know what exactly happened with the Twitter firehose being discontinued with Google realtime search ….and Google had to make a business decision.
Isn't It Just Business? Conclusion
Earlier last year (Feb 2011) I felt big changes for SEO / Internet marketing which did happen (Google formally includes social media in Search but in July 2011, as stated earlier in this article ends its relatonship with Twitter and then later launched its own social media platform Google Plus in the end of June 2011.
Overall, I am really say, as Danny Sullivan from Search Engine Land said 2011 is the year search engines took away from SEOs and publishers …. and now I see 2012 going further down this road.
I LOVE USING TWITTER, but as a SEO and search marketer, this news about Google+ being in the top of search results, forces my mind to switch gears and allocate time towards this Google owned social network.
That is not fair. Search is search, social networks are social networks. In my opinion. And google has failed at google buzz, google wave…..and knows google+ is its last chance to capture social media….and is pulling out all the strings.
Is it anti-trust or not, that time will tell.