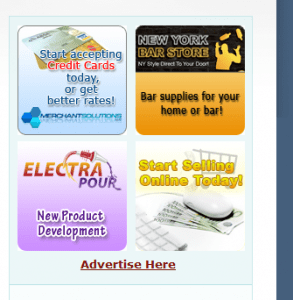 I've always hesitated to do too much self promotion on my personal blog….but recently after so many people seem to be confused on what I do for a living, and the recent EXPLOSION of "personal branding" and the convergence of personal lives and professional lives, I decided to add some small banner ads on the right side here on my blog.
I never liked to be a big pressure sales guy, I like to have people who are looking for a solution come to me. That is why I LOVE THE INTERNET. Because it is inbound marketing rather than pushing sales. I do have a more commercial site on WWW.michaelmichelini.com that I call my "office" here on the menu bar, but seems it is not enough to make it obvious to people that is where they can learn about my professional experiences.
I did have some stupid "google ads" on this blog years ago, but it made no money, and didn't really make a good impression to people coming on the blog, like I'm just writing this blog to get some PPC income from visitors.
The reason I blog here is to share my experiences, and its my "online journal" – since I have always kept a journal since early in high school, I thought rather then carrying a heavy paper journal around with me on my travels, I would keep it digital and online.
So these "banner ads" are simply displaying the businesses I am involved with for those of you curious enough. I'll add and remove, since I realize how many different "businesses" I am involved with. I LOVE startups. Its my passion, and business is so integrated into my life….why not integrate the business I am involved with into my personal blog to.
Its all about today's explosion of SOCIAL MEDIA, and dealing with PEOPLE rather then BUSINESSES. I used to be scared to connect my personal life to my business life. I used to hide my name on newyorkbarstore.com – I remember all of us in the business wanted to hide our personal names from the website – maybe for 1 it would make it seem to small and for 2 maybe there would get some crazy stalker.
But seems today's internet world, everyone is connecting their personal "brand" to their business brand, and I may as well do it here on the blog.
So enough for the JUSTIFICATION and explanation, there's just gonna be a few small square banners on the right navigation bar now, so deal with it 😉