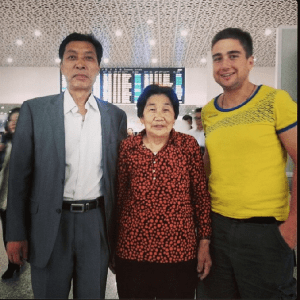 A couple weeks ago I picked up my Chinese family in law – well, to start, my father in law and my grandmother in law at the Shenzhen airport. They flew down from the northern China city of Shenyang (her hometown) and was their first time down in South China. Wangxia wanted to have them come down to help around the house since her and I are so busy. At first I was resistant – but I opened up to the idea. Just like everything in my life, I try my best to keep an open mind and embrace change.
I was going to blog about it as soon as they came down, but I think now that they have been living in our home (2 bedroom apartment) for about 11 days I have enough experience to share with those interested:
They are here to help – My wife Wangxia is now almost 8 months pregnant, she's still working as much as she can, and I'm still working hard on my startup Social Agent. So they are here to help. Seems Chinese, or maybe Asian culture, that the whole family works together to support each other. I think its a great idea. Her father is cooking some great Chinese food (granted I am getting a bit tired of Chinese food for breakfast, lunch, and dinner day in and day out…), and even small things like being at the house when deliveries come is helpful. Really takes a load off having all these to-dos in the back of your mind.
Don't talk directly to the in-laws – use your wife/husband as a go between – this I was advised by a few friends who are married to Chinese – don't argue / dispute directly with the in-laws – keep your patience, and report back to your spouse. He/she is the buffer. There are some general lifestyle and hygiene differences I am getting used to, some things in the bathroom I prefer not to share, let's just keep it at that for this post.
Little bit crowded at home – Yes, this is something that is a challenge – there are 4 of us in a 2 bedroom apartment. And a baby will be living here soon in mid-June. We make it work, but of course this is something of an experience. I think in Chinese and Asian culture, living in close quarters is part of the lifestyle – but definitely something I personally need to adjust to.
Spend some extra time to teach them the new technology and lifestyle techniques – Not just in China, but everywhere, there are drastic differences and educational differences from grandparents, to parents, to children. But I think its fair to say its a pretty big extreme differences in Chinese culture during these generations. Her father is pretty good at learning how to use mobile phones and can maneuver pretty well his smartphone. But some things I take for granted, for example getting into the building with a IC card, getting used to our washing machine, getting around different spots in the kitchen, need to have clear directions and shown a couple times. Patience is a virtue, I learn that time and time again.
Improving my Chinese and learning more Chinese culture and perspective – They speak zero English. So its more chances for me to be forced to practice and improve my current still limited Chinese language skills. In addition to the language, I get to hear stories about "back in the day" from Grandma when she was younger, as well as perspective of then and now. It makes great twitter content 🙂
So this is my experience thus far. This list will probably grow over time, but I'm having fun, embracing, and adjusting.