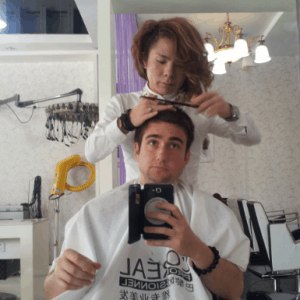 Seriously, I may be turning 32 years old in a couple weeks, and out of those 32 years, this has been definitely one of the most exhausting times of my life! But I don't regret it one bit, I love creating a business. And especially one that clients need and benefit from!
SocialAgent.me (previously known as Weibo Agent), a concept that started about 1 year ago (helping foreigners do business in China via social media), that was taken "full time" in June 2012 up in Lean Startup Machine weekend in Shanghai, China….
Practicing Lean Startup Methodology
and I do credit lean startup methods to the progress of Social Agent. CUSTOMER FOCUS! Lean do NOT mean cheap! lean means saving time and money PROGRAMMING or BUILDING something that customers do not want. "Fake it, test it, adapt".
Basically its these 3 things:
Customer – Who are you selling to (aka helping)
Problem – What is the problem (pick 1 problem!) that this customer is having.
Solution – How are you going to solve this problem, for this specific customer.
As much as I do like to be open, I am not going to fully reveal my own internal company development in this process (At least not until its much more developed), but the basic idea is I had it WRONG so many times, and we kept on tweaking, and thinking about these 3 parts over and over – AND STILL ARE.
I think the biggest issue I had was I had the problem and the solution mixed up. I thought foreign businesses wanted to do social media business in China – but really, they DON'T – that is the SOLUTION! They want to do business in China! Period, they want results.
And its becoming something much bigger very soon.
Bouncing Between Hong Kong + Shenzhen
Anyone who keeps up with me and my blog has probably caught me tweeting, or checking into foursquare on borders, on the road. I am constantly on the road. Now more then ever.
Social Agent's tech team (well, mostly my tech co-founder, Chris Li – but also Doug and Wouter and Xing and Steve) are in Hong Kong. As well as a ton of awesome Startup events (thanks Casey Lau + Elle from StartupsHK!!) – so I'm constantly bouncing over to Hong Kong.
In Shenzhen, I have opportunities in the investor and startup community – and trying to stay a "China startup" though it seems more and more Hong Kong is winning over this startup….both in team and in investment prospects.
Focus – Product and Customers, Team.
I miss blogging here….but really I have my head down and I'm listening to our core group of first users, not going too crazy getting big PR and working closely with my small startup team on building a good product and team.
As tempted as I am to get more buzz and more recognition, I'm focusing where I believe it counts. The rest will come later.
Honestly, I feel I have changed a lot. I'm trying my best to say no to a lot of things, projects, trips, distractions. It took a lot for me to get this far, and I feel amazing.
It really is all about focus.
Whats Next?
Now that the insanity of the go-live is over – there is still endless amounts of work to be done, but I need to get back on marketing and networking. Hoping to blog here more, but also a bit on SocialAgent.me/blog corporate blog.
The most important thing is prioritizing during various stages of your "startup" and life in general.
The biggest investment is time. And I am proud of the Social Agent team, and myself, to have held on this long.
Now its time to shine – the "base" is established, its time to put some "meat on the bones".