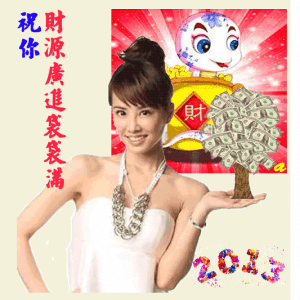 For those of you at all interacting with the Chinese market, you are fully aware this week is the Chinese New Years (Lunar calendar) – the official day was on Feb 10th, and last weekend until this coming weekend all of China was basically on shut down.
We left behind the year of the dragon, and are currently entering the year of the snake. And the 2013 year of the snake is the "Water snake" according to http://www.usbridalguide.com/special/chinesehoroscopes/Snake.htm:
THE WATER SNAKE 1953 AND 2013

Water Snakes are influential and insightful. They manage others well and tend to be good for organizations to utilize as staff. They are quite motivated and intellectual, very determined and resolute about success. They will have what they desire, despite the conclusion or outcome they generate because it is worth it to them to not only be recognized for their efforts, but to be rewarded as well. They are affectionate with their families and friends but do not show this side of their personality to colleagues or business partners.
Now that we have both the Solar (Western New Years – Jan 1) and Lunar (Chinese New Years – Feb 10 this year) over and done with, the Western + Chinese worlds will get "back to business" and people will be starting with a "clean slate".
I'm so excited for this Snake year, in the dragon year I worked hard to put all my efforts on a new venture, Social Agent and am fully committed this year.
We will be going to open beta on Monday, Feb 18th after months of being in a closed beta working with a group of core customers. After go-live, this is the next few months (rough outline):
Feb 18th, 2013 – Kickoff Year of the Snake, Go-Live of Social Agent startup – helping western businesses find customers and business opportunities in China.
Rest of Feb – Bouncing between Hong Kong and Shenzhen doing product development, testing, and operations management for Social Agent post-go live. Planning tons of USA phone calls with customers. Listening, learning, iterating. Hope to firm up an investment round (this will be a blog post on its own, for sure).
March – Shanghai and Beijing – Hopefully by end of Feb our product will be stable after a most likely insane go-live and I will head up to Shanghai for a business development trip with customers, partners, and investors.Then to Beijing, meeting more of our Chinese internet partners such as Sina, and maybe Baidu, as well as tons of Social media agencies and analytics tools.
April – Back to Shenzhen / Hong Kong Cyril told me there is a Shenzhen Maker Faire again on the first weekend of April. Also plan to work with Social Agent's IT and Operations team after business development trip in Shanghai and Beijing.
May – Startup Weekend Shenzhen + SEO conference in Wuxi, China – Plan to be in Shenzhen in beginning of May, we "penciled in" May 10-12th for the next Shenzhen startup weekend.About mid-May plan to go to Wuxi for my yearly SEO conference in China – normally its in Xiamen, China where I have been going for the past few years, but this year is in Wuxi. I will blog more information soon, it is to be May 23-25.
June – USA roadshow for Social Agent – Talking to my friend Attila (we did a great roadtrip last May, Los Angeles, San Francisco, to Seattle) and planning a USA tour on China Business, doing meetups from west coast to east coast. Trying to help American companies do business more effectively in China, as well to spread the word about my startup Social Agent.
So this is the basic plan for the next few months, blog coming soon with more details and updates for each specific event.
Cheers
Mike