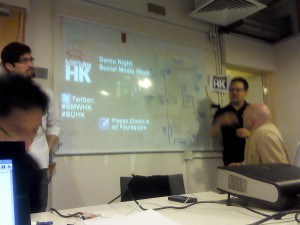 Sorry I'm behind on my blogging….just exhausting between the moving in to Hong Kong, the Chinese New Years holiday, and the hyperactive networking I've been doing in Hong Kong…..my friend Cat warned me yesterday to be careful in Hong Kong….you can spend all your time networking and have to prioritize.
But tonight, as much as I wanted to go to sleep early, I forced myself to attend the regular "startup mondays" at boot hk….which has been one of my favorite places to go for networking and meeting like minded entrepreneurs and internet "geeks". And tonight I was definitely in for a treat – it was a dry run practice run for tomorrow's entrepreneur pitch…..so many presenters, I did my best to jot notes down in a notepad on my notepad (I'm sitting there with my tablet, phone, wifi hotspot, and laptop all at once) so here we go:
campus fork – founder is rayfil wong, calls it the hot or not for food images. leaderboard of best pics. end of feb release iphone app. in over 30 cities
shopdescreatueurs – founded by cedrik, a marketplace for small designers, small brands, a single platform best indpenednet fashion. commission based, win-win, worldwide shipping, flat rate. more then 20 designers. 50% hk/europe. opening office in paris to get closer to designers there. partner w/ crowfunding site. designer of the week series.
qbid – online freelance C2C platform. Please type in what you need done.
qtrack – absent
rt traffic – absent
wizQ – absent
arkimet – absent
enterproid – by founders andrew toy, alex trewby, david zhu for android apps for enterprise use 3 main goals – unified, enterprise, cloud
asia daily deals – too many HK group buying sites, aggregate them, daily email, mobile app, stats, affiliate, featured, selling data
taxizu – by nagi, helping with taxi sharing in hong kong for long haul taxi routes….TAXI SHARING…….
crispy – apps of wonder, kids digital and more and tweens – funny mobile apps.
NEW CO by andrew layden – 1 device to rule them all….measure, temperature with your mobile device, and pass data to home depot / b and q to order the parts you need right away.
styles nearby – a mobile app to see small boutiques near by.
pandaforum online database to share data in a nice UI format, corporations currently stuck with lotus notes.
campus channels.com your english SUCKS was the idea, to help foster a friendly UI for hong kong people to learn english online.
timeable web platform for prioritizing events, pay to promote your events…iphone apps, gps to see whats happening around us. connect to personal calendar, auto data exchange, social plugin, potential for last minute booking promotions. run by mike ko
winehouse.hk – helping wine shops distribute their wine inventories on a B2B system. phil ingram – co-founder @winehousehk
beecrazy – flipter.com another groupon in Hong Kong, presented by queen bee, has a wanchai sales office, 24 people, 6 months old
So thats the rundown….hope I got it right…I was multi tasking (IM chats, email, projects…) while there…..but I have ADD anyway, so I can't focus on 1 thing at the same time.
I just kick myself a little, why did I always "avoid" Hong Kong in the past…maybe it was the cost…it is almost as much (if not more) then in New York City….and I am always paranoid as a bootstrapping entrepreneur to burn my cash on overhead…but I think its well paid back now with the connections and opportunities of being in an international, global city. Alas, we cannot look backwards, but only forwards. and seize the opportunity.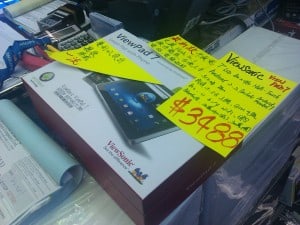 I have also just been investing heavily in tech gadgets…..I have been known to be cheap in buying old / used electronics in the past (for fear of them getting stolen), but I just let it all out recently and feel its investing in PRODUCTIVITY, social media networking, and building up DATA quicker – as I feel life is not about physical things anymore, its about the information that is stored within those devices. So I dropped some money this weekend and bought a google android table – the viewsonic viewpad…..pretty slick, and it does fill that void of "phone" or laptop when I'm in transit……I'm still getting use to it to be honest…so busy running from meeting to meeting.