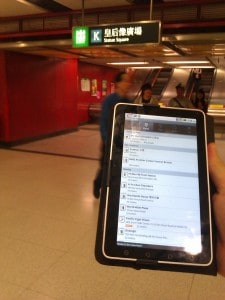 I have been tweeting and showing off my new android viewsonic tablet…..walking around the busy streets of Hong Kong and in the MTR underground…..bought this tablet Saturday afternoon to be a "between" my mobile phone and my laptop…..
People have been @ replying me asking me questions about battery life, does it work with a SIM card, etc etc, so I promised Piotr and some others I'd write up a blog entry about it.
I am trying to increase my productivity….but also I am trying to not have to carry an expensive smartphone with me as well (after my mobile phone was stolen I'm afraid to get a big, expensive mobile phone). So I have my laptop (where I am typing this blog now), this viewsonic tablet, and a HTC wildfire mobile phone (a smaller screen — less flashy, cheaper —- android phone) I also am carrying around a 3G hotspot that allows up to 5 connections to connect simultaneously.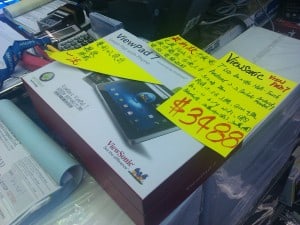 Some specs on the Viewsonic tablet
Its the viewsonic viewtab 7 series
7 inch display
Android 2.2 Operating System
512 mb RAM
WIFI
SIM card (so you can make phone calls with it) – I got a call on it today (it has my China mobile SIM card) and talked on speaker phone with it, but I could connect a bluetooth headset if I wanted.
Bluetooth ready (as per above) – maybe can try a bluetooth keyboard to type with buttons.
Battery life seems to be about 6 – 8 hours (haven't drained it yet, and used it most of my day)
Camera (am told iPad doesn't have this….)
I am loving this tablet….some people say they are like a big phone….but I see it as a laptop in the subway, train, bus, even using it in a taxi . And the screen makes it more social to share what I'm reading or doing on my phone with people around me. I was in HSBC bank today….I am on 3G so I don't need to search for wifi, when I'm in the waiting room, I am replying emails easily….typing with both hands easily spread out…..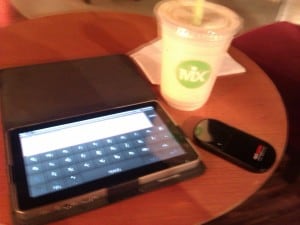 I really see laptops….and definitely PCs dying soon……sure its more convenient sometimes, but for the majority of a normal person's day to day work…..you can do it from this tablet.
Sure it gets some strange looks, one guy in the elevator said to me "is that a big iphone"? I have also been typing and walking, crashing into people a bit….but I am so happy that I can have a truly mobile office…..its really destressing to me. To me it kills dead time waiting for trains, taxis, meetings…..I can get my data in these annoying gaps….and not from some cramped mobile phone screen…..
Plus when I am using a laptop (as I have whipped out a laptop in buses, taxis, and other public transportation systems) you have to wait for it to come out of standby mode…..this tablet I have not powered off since I charged it up last Saturday…its always on….and I quickly unlock the screen saver and can get to my work.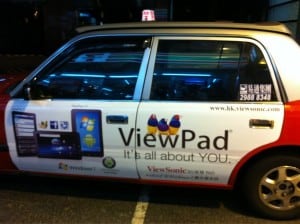 I hope I don't get robbed again….but you know what – THERE ISN'T ANY DATA that isn't back up…its always syncing my calendar, my contacts, my email….I can access things via dropbox app, passwords too. Its just amazing…..
The world of technology is moving so fast…I do agree mobile is in the lead….even above social media…..mobile will soon replace PC and laptop…..and there is so much software apps and solutions that need to be developed to make it happen!