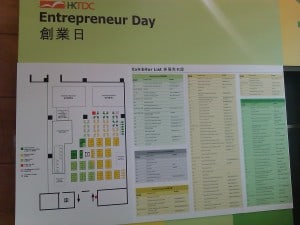 My buddy @AndreMartin luckily alerted me about the HKTDC entrepreneur fair that is going on in Wan Chai expo center today and tomorrow. And even more lucky is that I happened to be in Hong Kong! Very fortunate, granted that I didn't plan for this.
I asked around, this is a yearly event, and some people advised it may not be worth my time and that last year's event was mostly in Cantonese, lacking English language in the materials. But Leon and I took a walk down there from boot hk coworking space which is only 15 minutes away anyway.
WOW, I am definitely glad I took the time to make it there. As soon as I arrived, I was greeted by Vivien Chan, the marketing manager from HKTDC (Hong Kong Trade Development Council) that was the organization coordinating the Entrepreneur's day event. They also organize some factory trade shows that I have attended, but I was not aware they were supporting entrepreneurs and SMEs (small to medium sized enterprises)
I asked Vivien about raising startup capital, and she didn't have the information for me right away, but took my namecard and would email me – SAME day she just replied:
Info on SME funding scheme

Vivien Chan, KM (MCS) to mike , 5:57 PM (40 minutes ago)

Dear Michael,

Greetings from HKTDC! It's nice meeting you at Entrepreneur Day at HKCEC!

As mentioned earlier, below is the link which you may get more information on the SME Funding Scheme offered by the HKSAR.

http://www.smefund.tid.gov.hk/

Should you need more information on HKTDC's service/product, pls visit www.hktdc.com .

Regards,
Vivien
So people were asking me what kind of booths and companies were attending? Here is a quick rundown of the companies I came across:
The Entrepreneur's Club (The E Club) – An organization connecting, supporting, and inspiring entrepreneurs. Its a 1,000hkd a year membership that gives you free or discounted access to monthly speaker forums, affordable health insurance at group rates, online networking platform, memership directory listing, discounts to certain retail outlets. Basically, the value is the people you can connect with in the club.
JCI Hong Kong – JCI is Junior Chamber International, has chapters throughout the globe to provide networking and team building opportunities.
Hong Kong exporter's association – helping Hong Kong trading companies stay informed about news in the exporting industry.
More "members exclusive" entrepreneur clubs – Kevin She, CEO of SC Storage in Hong Kong, brought me to a booth he was representing, Innovative Entrepreneur Association where you need to apply and be selected as an outstanding entrepreneur to be invited to the club. Pretty interesting.
Cyberport – the official Hong Kong incubator establishment. Their website is incutrain.hk a bit strange if their name is cyber port.
Lots of virtual office companies – a famous service globally, but especially in Hong Kong (due to high real estate prices) to use a company for your company mail, phone answering (receptionist) services, and scheduling meeting rooms for client visits.
Payment processors – accepting credit cards in Hong Kong, asiapay was there to represent
Accountants and lawyers, company registry – the official CR of Hong Kong was there, as well as a ton of 3rd party service providers
Marketing and Promotions company – helping you setup facebook stores, SEO, and other online marketing campaigns.
Hosting companies, technology service companies – a really cool company, 0101host, a Hong Kong hosting business, was giving away free t-shirts for gTLD suggestions, (new ideas .____ for domain registrations) I picked .sales and had a t-shirt printed on the spot of the .sales words, pretty cool marketing idea, they took photos of everyone's shirt, and said the results will be submitted online for the most popular suggestion for a new gTLD.
Tomorrow is the 2nd and last day, so those of you in Hong Kong that are interested in small business startups or entrepreneurship, I highly suggest stopping by!