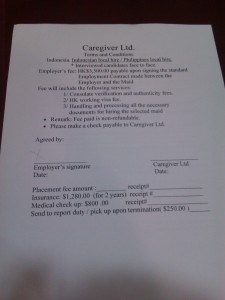 Being an open minded guy, I have been talking to a Filipina live-in maid who just quit her job with an "employer". She is a nice 26 year old girl, here in Hong Kong maybe 1 year. She has been working for an Indian household, and she said it was a horrible experience…being treated poorly..I don't have much details, but it got so bad she quit earlier this week. Because she left, her work permit is only extended for 14 days inside Hong Kong before she has to leave…she couldn't look for another job while working in the house hold (the maids live inside their employer's home while on assignment). 14 days is a bit rushed to find, interview, and apply / settle all documents.
Brought her over to boot hk coworking to see if there were people there would could employ her. My friend there William Liang is starting up grabbit task rabbit that is a service for runners to go around Hong Kong and do errands and odd tasks. She could do that for a while, but needs a working visa to stay in Hong Kong.
Other conversations in the space were that in order to hire her, you had to have a company in Hong Kong with assets of up to 250,000 hong kong dollars. Others said you need a Hong Kong ID and a steady job contract yourself.
She told me the agency would take care of everything, and said I could hire her!!! I had no intentions of doing so, but really was curious on the process and she arranged me to visit the agency yesterday late afternoon.
It was a virtual office in Central, Hong Kong, and it was a husband and wife operation that represented overseas maids in Indonesia and Philippines to get employment setup in Hong Kong. The husband was the one who met with me and Lyn.
He interviewed me about the intentions and my background. He said I needed to have a Hong Kong ID card in order to hire her. For me, I have my Chinese work visa and therefore cannot do anything about this in Hong Kong for her or other workers. I knew that, and was wondering why she insisted I would be able to without any problems…
Just makes me realize how desperate people can be….but man, to be a live in maid, six days a week, with a Sunday off to see friends (those in Hong Kong can see how many overseas workers there are by walking in any city park on a Sunday)….
Yet this job must be much better than jobs in their home country…..also Western Union is huge in Hong Kong….so much outbound remittances to their families back home…..
So seems Lyn will move to Macau for some time, she said she has an aunt there she can stay with. Again, this process made me realize how lucky I am to be born in America….and just makes me realize how random and ….unfair…. the world is based on where you are born.
Caregiver Terms And Conditions
Indonesia local hire / Philippines local hire
Interviewed candidate face to face
Employer fee HKD 3500 payable upon signing the standard employee contract between the employer and maid.
Fee includes the following services:
Consulate verification and authenticity fees
Hong Kong Working visa
Handling and processing of all documents for hiring selected maid.
Remark – fee paid is non-refundable
Placement fee, insurance HKD 1280 for 2 years, medical checkup HKD 800, send maid to report for duty and pick up on termination HKD 250.