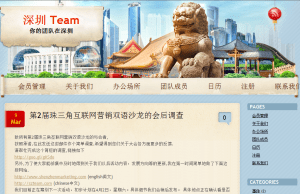 Congrats to boot hk Hong Kong coworking space and Jon Buford. I am a member and its a great way to quickly meet and network with like minded entrepreneurs. I am so excited that it was covered the other day in fast company. Sure that will help Hong Kong be known for more then just banking and financial companies (BORING!) and get more entrepreneurs from all over the world here.
Hong Kong is a great place to base your business….freedom to really act on the business alone and not be tied up with all the red tape crap so many western countries make entrepreneurs go through.
I have always enjoyed hanging in coffee shops, in Shenzhen, China I haven't found a coworking space, and instead build up my friends and network in cafes and bars in Shekou. We have talked about forming some sort of workspace to work together, but it does take some time and commitment.
I worry though – Hong Kong is much different from Mainland China, and I worry due to government controls on information, seeing a group of internet and entrepreneurs congregating may not be so easy to setup.
Chatting to Jon this afternoon about setting up a coworking space in Shenzhen, and the regulations involved in mainland China, he suggested I talk to @theliuyan who is running a successful coworking space in Shanghai, China – Xindanwei and could probably give some insight.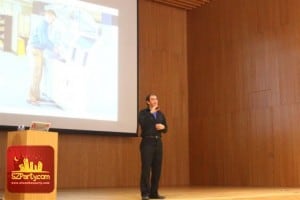 In Shenzhen we have been organizing a couple Shenzhen internet marketing meetups, and last Saturday's even Alex Hornstein presented about hacker spaces and coworking to the audience (which was over 100 people). The crowd really got excited about it, and we have been sending out surveys now to everyone who attended.
So for the Shenzhen coworking idea, we put together a website (still purely in chinese) , http://szteam.com to start spreading the word and seeing who contacts us and shows interest.
Tomorrow I'll head from Hong Kong to Shenzhen again, with some people from a hackjam.hk group by William Liang. They are looking for electronic components parts in Hua Qiang Bei market, and I will connect with with some of my shenzhen friends. Just like Jon said in his fast company interview – ITS ABOUT COMMUNITY and putting everyone's minds together.
Some Chinese say though, the environment in China is different for sharing and being open, that many are afraid to give away their ideas as others in the group will steal the ideas and copy them in the marketplace. One of the girls, Ella, sent me this email:
regarding the szteam, it 's a great idea and I am sure lots of persons will show interests. and it's sth which worth working on. To get it prepared better, here are some concerns for your reference:

1) our target clients

we need target our clients so we know whom we should work on.
fits for media and IT environments with sort of high freetime amateur element , i think, so called SOHO group and the startup groups.

2) the community atmosphere?

It's good to share opinions, however as Buford said" as for tech or software, people are often extremely protective about their ideas"
as some might be afraid of stealing ideas or tech , how can build the trust atmosphere? as you might understand China is a society with low trust( i hate to admit but it's true in some sense)
Does that mean the clients will get limited?

3) I guess it's not just limited to sz, maybe add gz, dg in later

bit hurry to meet some friends soon, I will talk with you tomorrow then,
So lets start experimenting with how the Shenzhen, China market reacts, I wonder how many local Chinese or foreigners will show interest.
I just truly believe shared office space is the way to go. Even in education, in schools, why do children need to have such structured programs? There should be more openness, collaboration, networking…teambuilding. That is what the future holds….