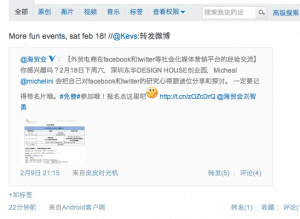 After a very successful first Social Media training seminar in January before Chinese New years, we have been trying to make an agenda and a plan for future events. Hero Meets Hero group (aka hiwto, a Chinese ecommerce group I'm marketing to Foreigners) ….we ran a survey in QQ…..posted feedback on Sina Weibo. Followed up with those who attended…..everyone was really happy with it.
We plan to have them two times a month, on saturday afternoons…but the question became, which topics, how long, how to best interact?
So, to better determine it, Anne at hiwto took the initiative (and pushing me a bit, I LIKE IT!) to setup a brainstorming session on Saturday, Feb 18th in the afternoon, at the Maker space Chaihuo….
Its going to be a crazy day….as the Hong Kong hacker guys are already coming into Shenzhen, https://mikesblog.com/2012/02/hongkong-hackertrip-shenzhen.html , but those who know me I love to overload my schedule….and the morning I'll be in Hua Qiang Bei to meet the HK crew, then rush back to Nanshan district to prepare for the brainstorming session.
It will be a bit informal session anyway, there isn't going to be a fee, but people need to be high level executives in E-commerce to attend, and need to RSVP via Chinese original post here
I did my best to quickly translate the Chinese event posting, as per below:
Event Type: Brainstorming of SNS experience, future trainings
Start time: Sat. Feb 18 13:30 – 17:30
Venue: ChaiHuo hackerspace, Nanhai Avenue, Nanshan District, Shenzhen Donghua Park 5, 0728 (Peng Mansion, opposite Donghua Shenzhen DESIGN HOUSE Pioneer Park)
Event Sponsor: Seatrade
Types of activities: Social media brainstorming, exchange of experience

Active issues: foreign trade electricity providers in the facebook and and other social media marketing platform for the exchange of experience
Number of seats: less than 50 people (only the CEO / General Manager / Director of Operations / Marketing Director / Top Sales)
Fee: free (activities can be free from the nearby dinner, AA system)
Notes: Please come on time, and with a business card admission to get inside! You must pre-register to attend this event as seats are limited, please understand!

Topic Summary:
I remember a foreign trade e-commerce social media marketing guru once said: the spirit of social marketing is an English word: Engagement! you want and consumers ' social ' : Chat, interact, play games, jokes and postures, so that they become disseminators of word of mouth, so that brands live in the crowd and become a fresh brand. But how can we remain engaged in social media marketing, always keep a creative, initiated a good topic to attract more eyeballs and a fan of, and thus enhance the communication efforts? What a classic case of industry bigwigs are worth sharing? Looking forward to your sharing!!!

Agenda:

13:30 Member sign in (business card required)
14:00-15:00 Members to introduce themselves
15:00-15:30 Exchange of experiences – social media marketing, Michael Michelini, U.S. Internet Marketing Consultant (in English with Chinese translation)
15:30-17:30 Participants free discussion topics and share exchange
After 17:30 – (optional) dinner / collaboration, AA (go dutch, everyone pays their own meal cost)

Please remember, you must RSVP first!

If you are interested to participate, or have questions, please contact the Sea Trade Member Department :
Denise : QQ 2292809181; phone 13590466671;
Yanni : QQ 466940392; phone 15999553190.

E-mail: info @ heromeetshero.com
Weibo: @Seatrade
Tel: +86 0755 2,664,332,126,643,905
Fax: +86 075526643607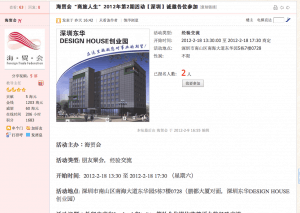 Been getting tons of emails and Skype chats that people think I have totally lost my mind, being so open, and doing sooooo many things. While I am completely exhausted – I am in the ZONE more then ever….
This event has been getting tons of positive feedback already since posting about it today (Friday Feb 10) – I have been getting private messages from Guangzhou, Shanghai, and other Chinese cities asking if we can have this event there as well.
I really wanna to build up the e-commerce, startup, and tech community….bridging China to the world.
I know that is a huge task, and bigger than most people can imagine. But we all need to aim higher! Not settle. Take chances, and do not regret failing!
I told you, the year of the Dragon is going to be a great year. Lets do this together!