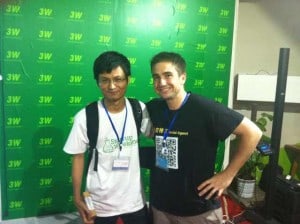 Its really getting better and better. Connections, experience, teambuilding, and inspiring entrepreneurship. Its been a couple days past the weekend, and I am finally regaining the energy to write a blog post about it. I love startup weekend, truly to my heart, but man do they take a lot of energy!
This past weekend was the 5th official (6th if you count non-branded) startup weekend in Shenzhen, China. And it was a special one because one of our original team's co-organizers, Kawai Or, was a participant this time instead of an organizer. This is awesome for a couple of reasons
1) He has never been able to be a participant, because he joined as an organizer for the first one in Shenzhen – and had to organize before participating
2) This shows how awesome the weekend is – as Kawai sees how powerful it is, he actually wanted to participate – what better way to show how amazing these Startup Weekends are than to see an organizer actually request to be a participant!
There were over 120 entrepreneurs who joined this time, and we held it in the 3W Coffee startup cafe for the 2nd time. They have gotten new management and have been a bit more strict this time (about closing time, food, and the rooms we use) but overall we made it work as best we could!
The majority of the startups were Chinese, but we had Paul Orlando come over from Hong Kong as a judge. We also had about 10 or 15 Hong Kong entrepreneurs come over, as well as about 10 western entrepreneurs in Shenzhen. Also a good support of Hong Kong mentors to spend their time helping out.
I'm always amazed at "execution" – we have prototypes and working demos happen in this 54 hour event – we had a good amount of business/marketing and programmers – but were short on UI/UX designers. Interesting to show the community balance.
The winners were:
1) Gogograd App to connect chinese students to overseas schools
2) Communication with emicotions – it's a kind of voice and emotion message, we can send that kind of messages via wechat. Do you keep the ppts? They should have english name on the ppt.
3) (Kawai's team won 3rd) – E-commerce website for app accessories. It's the hardware store version of Fab called Aurora 南极光
———-
And our official Startup Digest writeup from Mike Gasiorek:
"Startup Weekend Shenzhen was this past weekend and we had 120 participants for the event. Our mentors came from Guangzhou, Hong Kong, Shenzhen, and abroad – and so did some participants. The event was held in mixed English and Chinese, and 21 teams pitched some innovative ideas. Anyone that learned something during, made a new contact and friend, or just had a good time walked away richer. But we did have 3 top learners: Best UX award went to Aurora 南极光 for an online Internet-of-Things store. Best Mobile App award was received by Emoticon Connect for voice & animation messaging via WeChat. The night's winner was GoGoGrad App, which empowers parents and students with the application information they need to pursue education abroad. Hope to see you at our next Startup Weekend!"
And my most fulfilling part is to see the response from the participants – tonight I received this amazing email from a participant:
Subject: Say hi
Inbox

From: Hang
To: me
Date: 11:30 PM (1 minute ago), Tuesday May 14, 2013

Hey Michael

Here is Hang writing, a member from team "Plug me in", SZ Startup weekend…

🙂

Just wanna say Hi. Thanks for the name card.

I am a student studying in Hong Kong, really liked the event this time. Would love to attend another one in near future.

Love to keep in touch 😀

Have a nice day
So cool, to see we are making a difference!