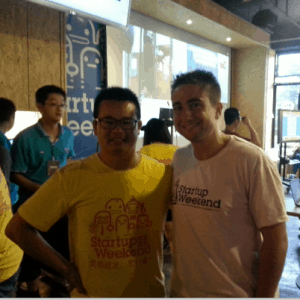 Monday morning here in Xiamen, typing up this blog post still running on adrenaline! These Startupweekends are so exciting, and powerful, and man, do they push your limits in energy!
I remember Asics Yao being introduced to me a few months back by Rui Ma from 500startups, as he was interested in doing an official Startup Weekend in his city of Xiamen, and also inside his coworking cafe ATcafe.me. Honestly, a lot of the planning and communication was done over weixin (wechat) – an extremely powerful communication tool. We started adding mentors and other organizers into the weixin group. I invited him up experience Shanghai's startupweekend in April, I remember meeting him in Shanghai for the first time and he was so enthusiastic about hosting a Startup weekend in Xiamen.
My role, as a Startup Weekend facilitator, is to help ensure that the events are properly carried out, answer any questions / issues on site during the weekend, and help support the local organizers. Sometimes people want to do Startup Weekend for the wrong intentions, but I could tell Asics was the right guy for the task!
The ATcafe space is amazing, capacity well over 200 people, holds regular events, multiple internet lines, and a definite "geek spot". They had Lenovo as a platinum local sponsor, we had mentors from Hong Kong, Shenzhen, and Shanghai. Attendees from Guangzhou, Shenzhen, and Fuzhou that I met (probably other cities too!). Over 200 people came on Friday night (60 were audience, and 140 were participants)
Why 60 in the audience?
There were 2 extremely high level angel investors on Friday night to speak, Xu Xiaoping and Cai Wensheng. I know many outside of China may not know these investors, but anyone in internet and technology in China would recognize them!
I was a bit amazed at the technology experience of the teams, a lot of times in Startup Weekend there is a lack of technical talent – this time there didn't seem to be a shortage. We had working html5 apps in a weekend. Asics was also extremely strict to ensure that none of the teams had been working on these ideas before the weekend.
They had live streaming video of the whole event! (51110.com/atcafe). They had professional video taken with a edited summary video to show on Sunday night. They printed everyone's photo from Friday night and posted it on the wall Sunday evening! Seriously organized, and detailed!
Presentation skills, mostly needed help. Sunday a few of the mentors reviewed the entrepreneurs pitch demo decks, and I will recommend to Asics that they hold a session on presentation skills and preparing an investor pitch. I wish I had more time to work with the 20 startup teams, but just simply not enough time!
Xiamen, I have been here about 6 times, mostly for SEO conferences, and its called the San Diego of China – having the ocean on 1 side, and a bay on the other. Very comfortable weather all year around, and its a ISLAND!
Also, it seems to be home of many small to medium sized startup tech companies. Many told me that there is more support for smaller companies in Xiamen over Shenzhen and other bigger cities – as the bigger cities want the bigger technology companies. In a way, I am starting to agree with this idea.
Asics, and his amazing co-organizer Ada (YY) did an amazing job and they are planning to host Startup Weekends 2 times a year – with the next one being in the Winter season.
Jia You (add oil – aka, keep going!)
I was asked to add some information about the teams, and winners.
The winning team was a Pet tracking app – you can attach a tracking tag to it and watch its health and location over time
A noteable team was a P2P LBS lending application (P2P is pier to pier and LBS is location based) – so that it would map out who had money to lend and where they were located, so that borrowers could go there to make a deal to borrow the money from them. Caiwensheng, a judge, said this is a kidnapping app, as crooks will use it to find people to kidnap and/or rob. The crowd laughed so hard.
There was also a team to help those who have suicidal tendencies and depression a mobile app to show that they are not alone. The girl who pitched the idea brought her dog as a prop, and she herself had had suicidal issues in the past, and was making this startup to help people who were in her similar situation.