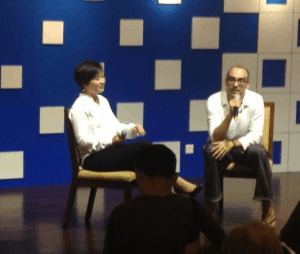 Today has been a great day for the Shenzhen, China startup community – Dave McClure, founder of 500startups.co incubator and seed fund in Silicon Valley, stopped by and had a fireside chat and open Q&A with entrepreneurs in the room who want to share their feedback and get answers from Dave.
This was really cool for me, as it was his first visit to Shenzhen! He had been to Beijing and Hong Kong before, but this China trip he also scheduled some time to Shenzhen – a day here!
Rui Ma, 500's new China venture partner, has also been stopping down in Hong Kong and across over here in Shenzhen – and she felt it relevant enough to bring Dave along to during his trip.
Some reasons why I think Shenzhen is on the map:
Tencent HQ is in Shenzhen
Tencent is probably a big reason for the trip (Tencent is the parent company of Wechat, QQ), as its headquarters is here in Shenzhen – but I think its still awesome that there is more attention being placed on cities besides Beijing as a startup scene.
Its Mainland China, but right across from Hong Kong
When I was considering places in China, I wanted to be in a Mandarin speaking place, that was easily available for me to get my entry/exit stamp in and out of Mainland China. Not many other places in Guangdong province that have Mandarin as the 1st language (Guangzhou is still a lot of Cantonese), plus there are about 7 or so border crossings into Hong Kong – walking, by ferry, bus, car, etc.
Less Polluted Than Beijing + Better Weather Conditions
Enough said…
Of course some of the drawbacks:
– Not that cheap.
– Only really 1 university – Shenzhen University
– Not many programmers, or most of them are "brain drained" into Tencent, IBM, and other huge corporations.
Shenzhen still has a long way to go as far as building out a full startup ecosystem- but to me, tonight's visit is planting a flag for this city as a spot for entrepreneurs to consider! Its going to be in my personal timeline on the development of Shenzhen as a startup hub.
Thanks for coming Dave!