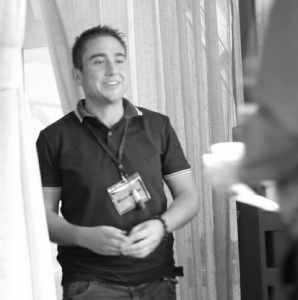 Been hustling like never before, and I thought years ago I was "making something happen outta nothing". But seriously this week has been non-stop all action and I know my buddies keep asking me how things are going with the Chinaccelerator demo day, being here in Beijing the past week, so I'll fill everyone in here.
The 3 month Chinaccelerator program has just ended and I came to Beijing a bit earlier for some business meetups. Took an awesome trip with some investors to a Buddhist temple on Thursday – many high level Chinese businessmen seem to be active and big contributors to Buddhism and I'm told its a good way to network and build relationships.
Friday more working in the daytime and then an evening Singapore entrepreneur networking event. Saturday to Sina Weibo's 2nd year anniversary party for its open platform, with a ton of developers.
Sunday more of the Weibo Agent team came up (Chris and Doug), Amy had been here from Saturday (to help with Sina weibo networking party) and it was lots of scrambling to make last minute edits and changes to the demo pitch on Tuesday. So basically, Sunday to Tuesday morning was rushing around to get the demo ready, preparing, practicing, and editing KEYNOTE presentations (I think this pitch was changed about 8 times significantly in 1 week's time!)
Doug typed it up best in our official PR release below:
Weibo Agent, the lead generation SaaS tool for Chinese social media, today unveiled the latest enhancements to its service at Chinaccelerator's Demo Day 2012. Born inside Shanghai's Lean Startup Weekend and having just graduated Chinaccelerator, the first seed-funded mentorship-driven incubator in China, Weibo Agent helps B2B companies build, track, and manage their potential customer base on Chinese social media, starting with Sina Weibo.

"Especially in China, social media is really changing the way business is done," co-founder Michael Michelini said. "Weibo profiles are becoming like Chinese IDs." The biggest challenge with using social media, however, especially in China, is cutting through all the noise to identify qualified prospects. After an initial requirements gathering, Weibo Agent fills users' sales pipeline with qualified leads. Once found, Weibo Agent helps keep track of and manage these relationships. Users of the tool convert more leads with less work.

The startup is seeking US$200,000 in funding and plans to use the money to integrate additional data sources from other Chinese social media platforms, building its own API, and integration with SalesForce and other CRMs. To learn more about Weibo Agent, please visit http://www.weiboagent.com or contact Michael Michelini at mike @ weiboagent.com, phone 15816859376, or, of course, weibo @michelini.

Electronic Media Kit
Story-related images and other resources available at http://www.weiboagent.com/media-kit
We've already been covered on some tech sites such as:
PR in Chinese:
http://www.techweb.com.cn/finance/2012-11-01/1251674.shtml
http://www.36kr.com/p/165100.html
http://www.iheima.com/html/2012/knews_1102/3900.html
Interviewed on Chuangye Tv http://chuangyi. chuangyetv .com/2012-11-14/201811540.html (offline in 2020)
PR in English:
http://technode.com/2012/11/01/chinaaccelerator-launches-3rd-batch-of-8-startups-in-beijing/
http://thenextweb.com/asia/2012/10/30/here-are-the-8-startups-graduating-from-chinaccelerators-third-class/
http://www.techinasia.com/chinaccelerator-2012-demo-day-startups/
Chinaccelerator's Demo Day Recap: "Another startup at Chinaccelerator's demo day that impressed me was Weibo Agent." http://www.tigerstartups.com/blogs/650/chinaccelerators-demo-day-recap
Chinaccelerator video on tudou
Man, feel so professional there! But yes, I hope to use Chinaccelerator as a platform to springboard to the next level. I'm a bit afraid to get sucked back into the "old way" I was – not focused, taking projects to get by, etc. I really want to continue to focus on developing Weibo Agent as an awesome online tool to help people do business in China via social media!
Also wondering if I should get back to blogging so often, or keep it to a weekly post like I've been doing during the incubator.
In Beijing til the end of next week, currently typing this from a cafe waiting for a business meeting. Life on the road, that is one thing I have mastered over the years!
* thanks Franky Yu for the photo in this blog, via http://www.flickr.com/photos/frankyu/8138283420/in/set-72157631891322487/lightbox/