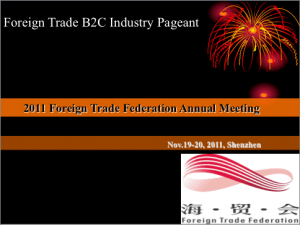 Talking on QQ now to tons of Chinese ecommerce EXPORT executive on a QQ tree group. They are all so excited for this weekend's Hero Meets Hero Ecommerce meeting, where I will get a chance to speak …. here is the exciting chat we are having:
Aleshia hiwto 15:10:56
well, I should let you know who are going to attend this session. Qucheng, the CEO of Netconcepts, runs a SEO outsourcing company, and he is going to give us a PPT presentation from 16:10 – 16:20, 2, Hu quanbin is the CEO of Siqi technology company, providing Email Marketing Software, he is also going to share us a case study of Email marketing and social media marketing. No.3: David Fu, the SNS manager of Sihaishangzhou which is a famous markting outsourcing company, and then you and me.

michelini 迈理倪 15:14:40
yes I know Allen Qu well from netconcepts

Aleshia hiwto 15:11:49
Ok,that's great. I really hope you can read these Chinese, can you? is there an English version of the schedule?

michelini 迈理倪 15:17:39
no english version, i am told i have translator

Aleshia hiwto 15:15:01
Did they tell you who the translator is?

michelini 迈理倪 15:19:24
no…but I know hiwto well

Aleshia hiwto 15:16:43
well, I think that might be me..

Aleshia hiwto 15:17:11
might be me in the session, like I said, we will speak english in that session

Aleshia hiwto 15:17:20
for you , of course

michelini 迈理倪 15:20:43
last time u contact me, was confused
michelini 迈理倪 15:20:47
now it is more clear
Aleshia hiwto 15:17:54
yes, I knew, my bad, I thought you already knew it.
Aleshia hiwto 15:20:39
Enlight me, what kinds of questions are you expecting on our topic?
michelini 迈理倪 15:23:58
cheap SEO
michelini 迈理倪 15:24:03
DIY SEO
So this Sunday I'll be on a panel about English SEO and ecommerce, getting questions from the 300 or so attendees. A bit nervous, but this is how to best get exposure and build trust in China.
What is this ecommerce group? Below is some information that we had recently translated to English. Soon we'll make an english website:
Topic:Destruction and Establishment, Communication and Sharing, Developing Together!

Theme Explanation:Facing a mess and fierce competition, the foreign trade B2C industry involvers have to communicate with each other, unite together to break the bottle neck of development, so that they can grasp market opportunities and win in the international market.

Time:Nov.19-20, 2011 (Saturday and Sunday)
Location:Shenzhen Home Fond Hotel in Nanshan
Organizer:Foreign Trade Federation
Mode : Speech + Discussion
Audience:leaders of foreign trade B2C enterprise, leader of traditional foreign trade enterprise, senior manager of manufacturing enterprise, VC, etc.
Number of Attendee:300

About this Foreign Trade Organization

Foreign Trade Federation is an association registered in Hong Kong and Mainland China,English Abbreviation:FTF

FTF was called Roundtable Meeting for leaders of foreign trade E-commerce, which has become the largest and most famous industry organization in foreign trade E-commerce industry.

The key tenet of FTF is to integrate industry chain of foreign trade E-commerce, including manufacturers, traders, foreign trade E-commerce platforms, service providers, VCs, governmental organizations, etc., which provides a platform of communication, cooperation, development and multi-win for the industry.

Since Oct., 2010, in every two month, FTF holds one meeting, inviting about 30 senior leaders from foreign trade B2C industry. Until now it has successfully held five sessions. For further communication, on the weekend of every two weeks, FTF also holds small meeting– "Business Life" for many times in different cities.

FTF QQ group has now attracted nearly 300 senior managers of foreign trade E-commerce enterprise in the world, and they are having active discussion in the group everyday.

Previous meetings

The First Session
Green World, Shekou, Shenzhen, Oct.16, 2010,21 attendees.
Sponsor: Shenzhen Sea Power Technology Co. Ltd

The Second Session
Dapeng Xiyong Bay Fountain Resort, Shenzhen, Jan.15-16, 2011, 26 attendees. Sponsor: Shenzhen 4PX Express Co. Ltd

The Third Session
Golden Bay Resort, Shenzhen, Mar.26, 2011,30 attendees.
Sponsor: Shenzhen Jinning E-Commerce Co. Ltd

The Fourth Session
The Interlaken OCT Hotel Shenzhen, May 7, 2011,40 attendees.
Sponsor: Google

The Fifth Session
Chendu Zhai Xiangzi Gongguan Cai, July 30-31, 2011,30 attendees.
Sponsor: Milanoo

Background of these ecommerce meetings

In recent years, along with popular internet and hot E-commerce, foreign trade E-commerce develops surprisingly fast in China. More and more enterprises start to set foot in this line and the related industry chain becomes more and more mature. Now people in the world can easily purchase very cheap products from China through network, including: wedding dresses, arts & crafts, electrical products and digital products……

This special industry in China is silent but profitable.

FTF has been watched the development process of this emerging industry, focusing on establishing a platform for foreign trade B2C involvers to communicate with each other and to develop commonly. On the basis of the successful previous five sessions, we put all our efforts in this annual meeting, will invite about 300 senior staff in this line to attend. Our aim is to disclose the mysterious veil of this industry, helping more developing enterprises to break the bottle neck and to grasp market opportunities. Let's be winners in the international market and let "Made In China" sell all over the world.
---
So excited to really get a good backing behind me on the Chinese ecommerce federation side. Will definitely start to bridge USA and China internet and ecommerce! Next year more USA business trips planned!
Connecting people, cultural expansion. Networking. This fits my plan perfectly.