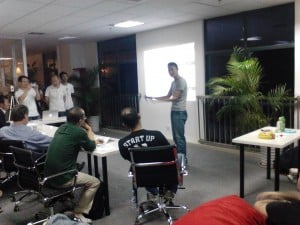 Typing this up monday morning on the hong kong bus, traveling there with ahmed and his wife mona who came to facilitate shenzhen's first official startup weekend! he gave me a ton of support and feedback on how the weekend went, how to improve and confidence that we are heading in the right direction in building up shenzhen startup community.
last night was the pitch night for those 54 hours the teams had been husting to build up prototype and a powerpoint pitch. Winning team was Shenma Cai? which means in english "what dish?", a mobile app to decode a chinese menu item and tell the foreigner what they were eating, what ingredients were in it, and feedback from previous app users on their taste feedback. The team of 3 was Hubertus from Germany (who is in shenzhen developing mobile phones), Mitch Davis from Australia, and Eric a chinese mobile app developer.
This winning team will have the chance to represent Shenzhen in Feb2012 Demo.com event in Singapore!! they will have to work together more to build up the prototype, but after the judging the team definitely seemed to be passionate and organizing more meetings together.
There was a tie for 2nd place with the Shenzhen University student team that built a second hand book exchange website, and Family Book, which was a startup to help Chinese families build up their cultural backgrounds and share online to continue to unify their family history.
There were 4 judges in attendance, Jason who represented a Shenzhen government investment bureau, Phil Xie from , Mike Bellamy from Passagemaker China doing blackbox assembly and packaging, and Paul Tittmann an experienced American businessman in China and Taiwan for 35 years. It was an equal balance of chinese and foreigner perspective.
Alice Zhang's team, an all natural beauty face mask, may have not won the competition but was definitely exciting for the attendees, Donald – a regular at startup meetings, was proud to see Alice, who has been active in our group since at least August, present to the judges on her own, confidently and in good english – she is very passionate about this fresh fruit face mask and also tried to get this startup voted in the last BootUP! weekend but the attendees didn't join her that time. This time she got to build it up over the weekend – Donald and I feel she could make a good living off this product and hopefully this startup weekend will push her to continue developing it!
Its seeing development in people like Alice that make all this work feel worthwhile. Hopefully she will continue to develop it and can tell her friends it all started from a startup weekend!
We had a bunch of guests in the room who were anxious to witness the first startup weekend pitch night….we had some who are flying up to Shanghai for next weekend's startup weekend there! They wish they had known Shenzhen had this event…. they had been hearing about Shanghai's for months in advance….we down here in Shenzhen put this together in a few weeks only.
The committee was a great team, Nik, Kawai, and I were pumped collecting feedback from all the attendees, we learned lots of valuable input and are energized to plan the next event soon – we will continue to maintain shenzhen.startupweekend.org and the word is out – Shenzhen definitely is getting more organized on its startup community.
Thanks to all the mentors, judges, and startups in Shenzhen who came out to support.