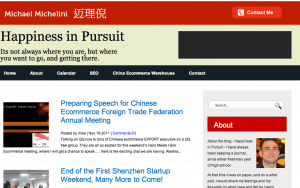 Finally got this new blog template online, been talking about new template since September, tried to get it online before my USA trip scramble…after getting back from America I have been doing intense meetings, events, proposals for ecommerce businesses.
But here we go, Doug helped me finish the blog template and I like it!
Some negative feedback:
Red is too agressive of a color
Seems more "template" / standard – loses the personal feel of the old template
Miss the photo at the top!
Looks like a news site
Some positive feedback:
Faster loading
More professional
More "China" feel
I do want more feedback, but this new template does reflect the changes I'm making with the blog…it has gotten to be more "business like" – but I don't want to be too professional here, I will still talk in "first person" telling people my feelings as a human being and not some boring new site.
But I will be trying to podcast and interviewing Chinese business and internet people, talking about their perspective doing business in China. I really think that is what people like the most on this blog, the real-world, simple talk about china business, the struggles of a guy like me trying to do his own business in a foreign country, the adventure.
So more of the same, but please comment below on your feedback….even if its brutally honest and negative, I will hold my breath….