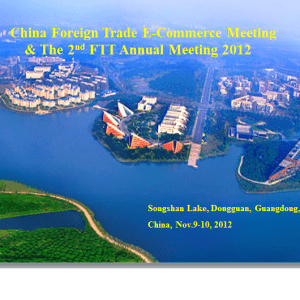 All these events are happening in Shenzhen once I'm done w/ this Chinaccelerator! This is the exact same weekend as the Shenzhen startupweekend, but I will try my best to stop by on Saturday the 10th to see my old hero meets hero e-commerce friends (and high level executives). Again, this is a massive Chinese e-commerce group, and the event is still purely Chinese. It still amazes me that no one in the Western world is aware of these huge groups in China…shows me there is still so much opportunity in bridging USA and China businesses.
Originally I was telling some of my contacts this was in October…and unfortunately I talked too soon, as it was re-scheduled until November!
Time:Nov.9-10,2012
Venue:Hyatt Hotel,Songshan Lake,Dongguan
Motto:Make Friends Everywere, Sell Good Products To The World!
Spirit:Communication, Sharing, Resource Exchange
Format:2 days,1 Main Forum+4 Branch Forums+6 M2C Meetings+cocktail party + investment invitation
Size:1000 attendees
About this session of FTF Annual Meeting
Brand:FTF Annual Meeting is the first pageant of Foreign Trade E-Commerce Circle in China. Many senior managers will come from all over the world, who have great consumption ability and decision power.
Benefit: product display, M2C meeting, the suppliers and purchasers will meet with each other, and they are from different industries.
Promotion: many medias will come and fully report all our activities
Innovation:a challenge competition about "one email makes RMB1 million in 48 hours",many activities relate to culture, art and e-commerce innovation.
Organizer: China E-Commerce Association, Dongguan Songshan
Lake Administration Committee, FTF
Co-organizer: FTF Dongguan Branch, FTF Tianjin Branch, FTF
Shenzhen Branch, FTF Foshan Branch, Dongguan E-Commerce
Association, Shenzhen Internet Technology Application
Association.
They're not updating the English heromeetshero.com website- so if interested, please checkout hiwto.com in Chinese
Still so much bridging to do…