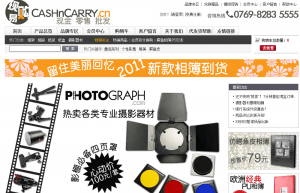 After months of preparation, last week we launched cash n carry Chinese shopping cart to sell the products in our fiveislands ecommerce center. It's exciting to see it come alive…I am working mostly on helping foreigners enter the Chinese market, via this website, as well as making their own ecommerce shop and Chinese brand.
In Hong Kong I have been having tons of meetings with foreigners rushing into the Chinese consumer market. With the fiveislands team in Dongguan and Hong Kong, we can offer the expertise and tools to compete.
98products I learned the hard way, Chinese shopping carts, payment gateways, baidu SEM campaigns and mistakes….jeez I learned the hardest way possible I think, but I learn by being on the ground. I will be adding the Chinese bar products to the cashncarry line of products, along with the photograph camera accessories, photo albums, video game supplies. Talking to a Shenzhen product designer, Karta, about selling his bike accessories in China too, as well as a whole line of products from friends and contacts in USA, Iceland, and other countries.
This is what I had been trying to do for years loadpipe dream and finally I have the support and tools to EXECUTE the plan. But it was also just taking time to learn the local Chinese market, build up a network and knowledge base here over the past few years….and also I see the Chinese ecommerce market more developed and accepting of online payment and shipping…so a few years ago the market maybe wasn't as ready as it is now. I remember customers having to come to the office to buy, even if it was less than 50rmb (7 usd) value of an order.
Anyway, hoping to build up a portfolio of foreign products and assist them in online distribution in the China market. After years of research and networking, combined with my new deal with Five Islands, I think it's a pretty sweet set of offerings we can offer people.
Will also keep building up community, networking events, coworking space, and generally an environment of supportive and knowledgeable ecommerce experts in Hong Kong and South China!
Bridging China and USA/foreign internet business….definitely not an easy feat….reading about Baidu trying to buy an English search engine, and google leaving china last year..bridging China to the foreign internet, is uncharted waters. Sure there is DHgate and Lightinthebox , alibaba's aliexpress, but not really out there to help the gweilo in China.
If it was easy everyone would be doing it. If you or someone you know is interested, contact us at fiveislands.cn, I'll soon be adding a banner ad on this blog too….creating win-win synergies and exploring the Chinese ecommerce business opportunities together. Also bridging Chinese companies who want to do more ecommerce in USA, have alliances, partners, and friends in America who can help there as well. CONNECTING is what I love to do, and bridging cultures….taming the chaos (that make you fee better Leon!?).