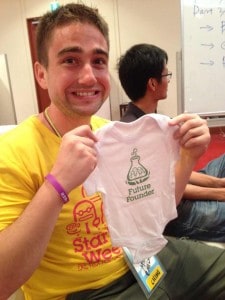 Life is really moving in the fast lane! Both in personal and in startup life, and in travel! As many now know, I got engaged and will have a wedding ceremony Jan 11, 2013 in Shenzhen, China. Also a USA trip afterwards.
Currently took a 3 day trip to Okinawa, Japan for a startupweekend.jp ROSA (Regional Organizer Summit for Asia) where I have been able to connect with Startup weekend organizers and facilitators from Japan, Korea, Mainland China, Taiwan, Hong Kong, Philippines, Thailand, Indonesia, and Bangladesh – as well as the USA Headquarters reps here as well. Totally worth it to make amazing connections with these amazing connectors! Will help for years to come.
But the news I'm sure everyone that is reading this blog post about is the "I'm gonna be a daddy" news – ok, well Monday afternoon when I landed in Japan I received a weixin (wechat) message from my fiance Wangxia of a photo of a doctor's report confirming that she is pregnant. It was all in Chinese , but I knew what it meant. I passed the phone to Kawai and he confirmed it was what I thought it was – I'M GOING TO BE A DADDY!
Totally amazing feeling….my life, my mind, my thinking is changing so much. gonna have a "mini me"!!!
Here in Okinawa, Japan – I'm the "easy to remember" guy that is now going to have a baby! Sheikh, one of the USA HQ reps (which I've been talking to online for years and finally got to meet face to face) announced my good news and gifted me some new baby clothing (as shown in main blog post photo) titled "Future Founder"
I can't wait to take my baby all around the world with me to entrepreneur events! Though the little tike can grow up to be the man/woman that he/she wants to be!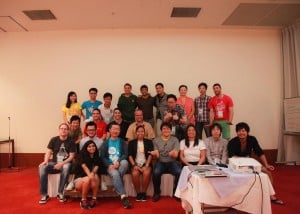 Later on, Nick Wang posted this on Facebook – and the group photo (so added this a few days later)
"It started off quite unexpectedly. You get a room full of people who're investing their everything to build the startup ecosystem, wherever they are; and you get a world full of ideas, successes, failures and obnoxious vendors. You sometimes play the role of parents, sometimes of teachers, sometimes just an inspiration, sometimes a venture capitalist, and sometimes a friend with a peg of wisdom. Meeting you was fascinating – and it's energizing to realize how we can work collaboratively to build the entrepreneurial culture in our respective countries. The future is now. "
– Nick Wang
Startup Weekend Regional Organizers' Summit Asia at Okinawa, Japan 2013. — feeling inspired with
Michael Reinsch,
Nicholas Wang,
Kawai Or,
Seokwon Yang,
Michael Michelini,
Shuji Honjo,
Adam Stelle,
Volker Heistermann,
Darren Jensen,
Dulce Rose Lada,
Aryo P. Ariotedjo,
DongYol Lee,
Amarit Charoenphan,
Liu Yan,
Tins Amper,
Shingo Hiranuma,
Shuhei Yamada,
Koji Ikemura,
Ellis Wang,
Ada Huang,
Usami Akira,
Shingo Igarashi
Sheikh Shuvo.