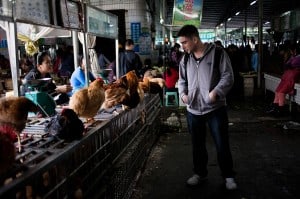 A couple weeks a photo journalist, Li Jia, came to the Dongguan Fiveislands ecommerce warehouse, but also other factories in the business network here in Chang An. Her main project was to interview and photograph the lives of factory women and their love life.
I'll save that blog post for once she gets me those photos, but in the meantime, I walked with her around the factory city and she took some awesome pictures with her 5dmkII camera that I'm posting here. Actually the photograph with my hairwash and waiting on the bench for a wash inspired my post 9 ways I've become more patient in China – as Li Jia was beside me laughing as she could see my holding in my anger….
We walked through a Chinese wet market (meat, vegetables under some massive roof structure, semi outdoors), and there are live chickens for sale – I think 100rmb each, and these chickens are jumping around pecking away….I tried to get as close as I could for the photo, it freaked me out!
Getting these photos today really made my day I uploaded them to facebook too and got some great feedback, so felt it deserver its own blog post. Trip to a barber, and a chicken / wet market in China.