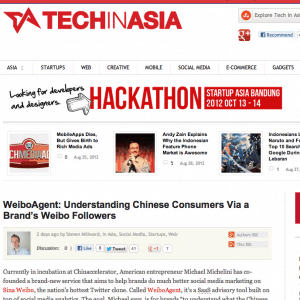 I think the number 1 feedback most friends would give me is if I focused on just 1 thing, I would be able to make that a huge success. I think it was because maybe I didn't know what I wanted to do. Maybe because I was too "young and inexperienced" and was greedy, wanting to have a bit of this and a bit of that, dabble in some websites, some product development, etc.
Over the years, getting beaten up here in China + Asia for 5 years now, I have learned to let go of what isn't working, or what isn't my passion. This year was the year – and now that I've gotten my sights set on making Chinese business more clear / transparent utilizing chinese social media – I have hit something I want to bet it all on.
Not even a month into the Chinaccelerator we are covered by tech in asia, this is only 1 small step on a long, long journey for this company.
A quick blurb from Steve Millward's (@SirSteven) article:
Currently in incubation at Chinaccelerator, American entrepreneur Michael Michelini has co-founded a brand-new service that aims to help brands do much better social media marketing on Sina Weibo, the nation's hottest Twitter clone. Called WeiboAgent, it's a SaaS advisory tool built on top of social media analytics. The goal, Michael says, is for brands "to understand what the Chinese customer wants – and doesn't want – and adjust accordingly."

And so WeiboAgent has actual human advisors on hand, and it's not just a way to post to Weibo. It's currently being honed in closed beta, and Michael reckons that WeiboAgent will be fully up and running – and monetizing – even before the final Chinaccelerator demo day on October 31st.
Full article here – http://www.techinasia.com/weiboagent-advisory-tool-for-sina-weibo/
I love the passion, the blood, sweat, tears of being the gladiator – THE MAN IN THE ARENA
It is not the critic who counts; not the man who points out how the strong man stumbles, or where the doer of deeds could have done them better. The credit belongs to the man who is actually in the arena, whose face is marred by dust and sweat and blood; who strives valiantly; who errs, who comes short again and again, because there is no effort without error and shortcoming; but who does actually strive to do the deeds; who knows great enthusiasms, the great devotions; who spends himself in a worthy cause; who at the best knows in the end the triumph of high achievement, and who at the worst, if he fails, at least fails while daring greatly, so that his place shall never be with those cold and timid souls who neither know victory nor defeat.
Now is the time to shine, and even if there is failure, its the beauty of trying – putting everything you have on the line, and taking a chance.
You can live with pain, you can live with embarrassment, remorse is an awful companion! – John McCain
Onwards!