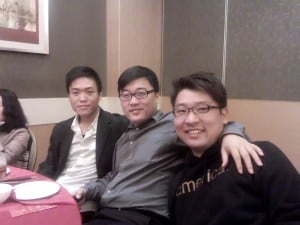 Currently in a car heading back to Hong Kong from Dongguan, China. Thinking back to when I was living full time in Shenzhen, even though I was in south China, the city of Shenzhen is primarily Mandarin – which is the nationally recognized language of the People's republic of China. It is actually one of the criteria on my checklist when I first moved to China…as I would rather spend time surrounding myself with Mandarin Chinese speaking people than Cantonese.
The photo on the right is my new friends at the Five Islands ecommerce center…from left to right: Pak, Yuan, and Philip. They all prefer to speak together in Cantonese, and my time at lunch and dinner is listening to them speaking in that only- guangdong province language we call Cantonese.
Cantonese is still the primary language in Hong Kong, and in many southern China cities of Guangdong such as Guangzhou. Doing business now between Dongguan and Hong Kong, I am often submerged in the language of Cantonese….flipping to Mandarin, flipping to English.
Now I really wish I dedicated more time to learning mandarin while in Shenzhen from end of 2007 to mid 2010…I feel it will be a bit more difficult to learn Mandarin, or at least take more effort as I am getting Cantonese mixtures and dialects thrown in all over the place in my daily conversations.
My friend Larry talks about how Cantonese is a dying language, he is living in Guangzhou, which is actually the most prominent city in Guangdong for Cantonese (in my opinion) and Larry has been picking up the language this year actually.
Definitely keeps things interesting…..adds to my preference of living a life of chaos rather then predictability and order….
Learning Mandarin Chinese is on my list of resolutions for 2011….I have to follow through with that…..
But where, and how should I do that when I am traveling back and forth between Shenzhen, Hong Kong, Dongguan, with a sprinkle of trips to the Philippines every few months? How to balance that?
I personally have always learned by WRITING down when I am studying….some of us learn by listening, some by seeing, but my personally most effective way is to write it down on paper….once I write something, maybe its the stroke of the pen that helps me solidify it in my mind.
I'm told I should chinesepod or get a tutor a few times a week, any ideas from you guys?