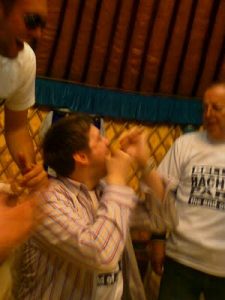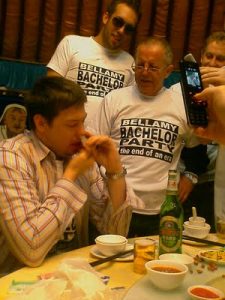 Wow, wish I had brought my video camera for this one – last night at a bachelor party dinner our friend here from Germany shows us his trick – Pull a condom through your nose / nostril and then out your mouth!! It was painful to watch…..very freaky…
But I love this – had a South African snort up a line of spices, a Southern USA confederate make his case about politics and world policy…complete insanity.
And then we head for go karts in China… man I had a few close calls….those carts aren't a joke – they move fast! I spun out first turn and got side swiped hard into the wall…broke the wheel off (f-1 style cars)……I signed some kind of waiver…so who knows…that kind of course would not exist in USA…and after a 4 hour drinking session, having 15 bachelor party attendees drive isn't the best idea either…
And the dinner was awesome – full lamb in the middle of the table – it was a Malasian restaurant and we had our own tent too – felt like I was in another world.