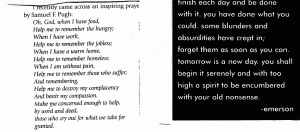 My dad is one of my top blog readers, I am in a way glad he reads it, but at the same time I cannot spend more time talking to him and with him in person…being over here in Asia has been great, but there are some irreplaceable memories I am missing out back home in America I am sure. Wish life could be simpler, but I believe I am on the right track for the future of entrepreneurship, business, and opportunity being in Asia.
I have said my father has done a lot for me in my life, one I can most attribute is hard worth ethic, when I was young he would always push me to do more work, not to get lazy, not to settle for average or compare myself with how my friends are living their lives, but to excel.
And now, I love that my dad has adapted to technology and started to email and scan things to send to me. Recently he sent a nice motivational email and my mom never uses the computer so typed a message she sent as well.
The other day, he scanned in some quotes I liked, one of which was a magnet I had stuck to their fridge down in Florida (emerson one), so here they go, typed out by my hand:
I recently came across an inspiring prayer, by Samuel

F. Pugh:

Oh, God, when I have food,
Help me to remember the hungry;
When I have work,
Help me to remember the jobless;
When I have a warm home,
Help me to remember the homeless;
When I am without pain,
Help me to remember those who suffer;
And remember,
Help me to destroy my camplacency
And bestir my compassion.
Make me concerned enough to help,
by word and deed,
those who cry out for what we take for granted.
I don't like to push religion on my blog, but the first one there is great no matter what religion you believe in.
The second one here is the magnet I have on the fridge over there- from Emerson:
Finish each day and be done with it.
You have done what you could.
some blunders and absurdities have crept in;
forget them as soon as you can.
Tomorrow is a new day.
You shall begin it serenly and with too
high a spirit to be encumbered
with your nonsense.

– Emerson
This one is good to read at night when you can't sleep, and you head to the refrigerator to get some milk (this my mom always told me helps me go to sleep).