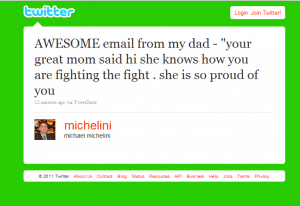 I guess I am already "successful" depending on how you define it, we all are if we accept the person we are, and utilize our strengths and offset our weaknesses with good people. But why is there this constant internal pressure to "prove ourselves" to our family and to the world?
I have been so much busier then in my whole life…..maybe the last couple weeks I haven't been up in the air flying between USA, China, and Philippines….but still border crossing between Shenzhen / Dongguan and Hong Kong….as well as so many networking events, sales meetings, and connecting meetings. But this is what I love to do…..MOTIVATING People. Connecting people.
Because I have been busier then ever…I have been really far behind in giving my dad and mom a call back home in Florida, USA. It is really hard to stay in touch with family and friends back home…as nights are days and days are nights (opposite) and my nights I'm normally outside in meetings or events…and mornings I am moving from my apartment to an office to a coffee shop….need to figure out how to get voice calls on my tablet so I can call internationally for free with my data plan. (skype seems to block my tablet use, can't find on android market?)
But I really think your childhood, and the support and nurturing from your family, especially parents, is so vital to your future success. I have blogged about learning hard work ethic from my dad and how he would stay on top of me to get my homework done, and extra projects too…piling the books up on my desk, the paperwork, the applications for various programs….just embedded in my mind that I always have to be challenging myself…never get comfortable, never to settle.
And lately, I am only chatting to my dad in quick emails back and forth…..my dad has been getting better at using the computer and email, and today I got a great email reply, after I apologized for not being able to call as often lately – here it is:
your great
mom said hi
she knows how you are fighting the fight .
she is so proud of you
I shared it on twitter and seemed to get a good reaction from people…..its true to the heart…its the core of why we wake up every morning, right? Make our parents happy.
Of course this makes me so happy…..my family supports me being so far away from home. And not able to contact as often. As much as I miss them…I do feel I belong here in Asia. This is where the future is…..this is where the growth is. I need to build my network and my value bridging both sides.
Pressure? In a way, my dad always gives me indirect pressure. I know he loves me…but I feel I have to prove something….I was born into this world from my parents, and I have to make something of myself.
Why do I feel that. I think that is a common feeling all people have….right? That indirect pressure from family and friends to "make something of ourselves".