Browsing Facebook (often times I try so hard to not get distracted) there was a good one from Anna Wong of Female Entrepreneurs Worldwide (FEW) that shows a screenshot of a phone screen with a notification that "mom" is calling (the person's contact name is mom).
It went on to say that we need to pick this up – no matter what – and not complain.
Isn't that beautiful? We should treasure our mothers. I think what she was hinting at in her post was that maybe sometimes in our adolescence we are like thinking in our head (or complaining to our friends) as the phone rings and rings from mom (or dad) to check up on us.
But they are calling because they love us, and because they care!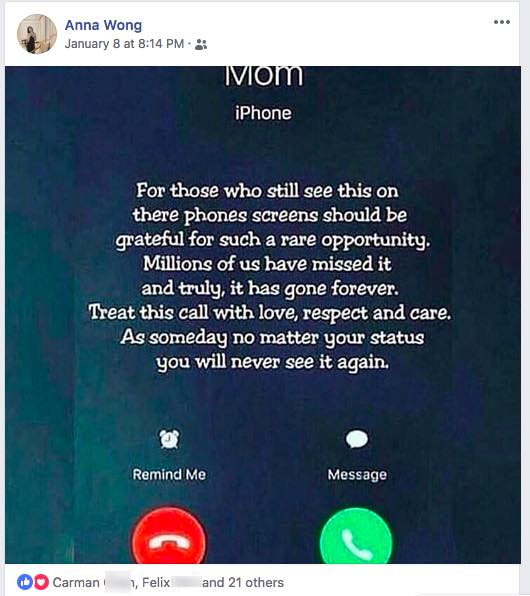 For those who still see this on their phone screens should be grateful for such a rare opportunity. Millions of us have missed it and truly, it has gone forever. Treat this call with love, respect and care. As someday no matter your status you will never see it again.Mom is calling
Mom Is Calling – Enjoy Those While They Are Here
Sure, I think we can all relate to those times when your cell phone rings and you are just not ready or in the right frame of mind to answer it – mom or no mom. Yet we need to realize – albeit morbid – that phone call from mom will not always come. As you grow older and life moves on, you will move out from your parent's house and the calls will get less frequent.
You'll be a grown up. On your own, and mom may not need to call as much to check up.
Life will pass by, and someday your mom will leave this Earth. Yes, I said this would be morbid. But that is life and that is what makes it so unpredictable. We all have a limited time in this world and we are here for a limited time.
Makes Me Think of the Book – The Giving Tree
This is a children's book I didn't come across when I was a kid – but was on the bookshelf with our kids so I gave it a read with Miles and Maggie – it made me tear up!
Check it Out For Yourself:
Connecting the book
In a way it relates to today's post – that as children get older, they "need" their caretakers (in the book it is a tree) less and less. But at a certain point they do come back and appreciate them at the later years in life.
For some reason I am scared about this with my own kids. I am expecting it – that is why I am making the most of it now. You know, those years when they don't want to be seen with you at school, not hold your hand, not bother them when they are going to a friend's house party. It will be part of letting go, and they will want their independence.
But please, when mom calls – maybe this little blog post will inspire you to think positively and remember that there may not be many more. That we need to appreciate our parents, our family, our loved ones – because life is fragile.
Make It Happen – Call Mom
Whatever day it is – pick up the phone and call. Appreciate our mothers – on mother's day or any other day.