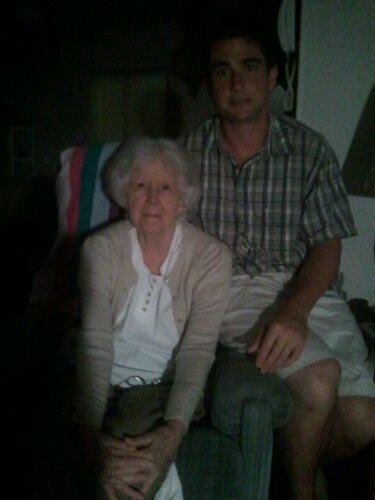 Just arrived back home, my grandmother (nana) lives in the next retirement community so its a quick drive over. Spent some evening hours talking with her, and my 2 uncles – Uncle Steve and Uncle Gary. I was reminded how rough the USA economy still is……as my uncle Gary is still without a job and Steve is getting by.
Nana is getting stronger, she had been in the hospital late last year (which was giving me reason to rush back to USA from China)…but she has recovered, and is instead at home with my uncles taking care of her.
They asked so many questions about China, how is it to live there, do I speak the language (well, a little bit…), relationships, business (how much do I make…kinda secret…not so much!!), just bombardment about questions. I guess I love it, I try my best to give accurate statements about China…I jsut say what I have seen and if I haven't seen or experienced it, it may still be possible. Like Uncle Gary spoke about "green cities" in china that are running off low power and using alternative energy – I never saw or heard of it, it may be in China, but not that I know of. Not just this visit tonight, but all the time now in USA I'm getting off the wall questions about things in China someone has heard about. Maybe they are true…
Another amazing thing – THEY ARE READING MY BLOG regularly! Uncle Steve printed out my blog for nana to read (well the facebook note from my blog) and uncle steve had really enjoyed reading my posts….reading excerpts from various posts like my landing in jfk and struggling to use a payphone to my experience in a chinatown filipino chinese wedding and who the girl Sarah was, and how the ceremony was. Its almost mindblowing to think how much this blog has reached, and that people are actually reading it. I've been blogging for over 3 years now, but seems its finally being read!? Awesome, better late then never.
So nana was quiet most of the night, listening to me and my uncles talking, when we asked her if she had any questions for me, she said:
When are you getting married?
Jeez, I guess I should expect that, I am 29, she was married much younger then that. My uncles – Steve and Gary, never got married. They explained they had never met the right girl – Gary saying that either the girl liked him and he didnt like her or vice versa. My dad and mom have been happily married for around 35 years, and everyone supports that and is happy for them. Marriage is tough these days, seems extra pressure, on top of it seems so easy for people to get divorsed, almost supportive. But yes, I keep hearing about my friends getting married while I'm out in China – and now just attended a bachelor party, but I'm gonna keep living life, working on developing myself as a person, growing stronger, and seeing where life takes me.
But seeing my family has INSPIRED ME. I need to fight to build my business, my future. Kinda feel INDIRECT PRESSURE from this trip. The world is such a big place…I'm trying to "take over the world" and coming home has opened my eyes…..to my family, my life, my roots.
I want to prove something. Do it for Nana!