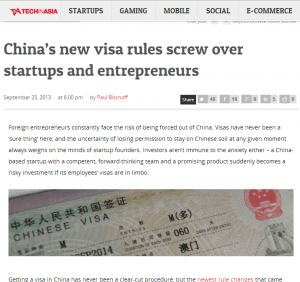 Passport visas!!!!
I remember I didn't even know what a passport visa was until I came to China – as a US passport holder I'm spoiled traveling to Europe, Mexico, Canada, and other countries without needing to file a passport visa. But in China, I learned to file a passport visa to enter the country.
I have had this blog post as a draft in my inbox for about 2 or 3 weeks. It has seriously affected my team and my startup – but like any entrepreneur, especially one outside of their home country – we just gotta "take a lickin' and keep on tickin'".
I say it was in my drafts because last week I was quoted in Tech in asia about this very topic- further motivating me to finish this blog post:
American Michael Michelini came to China in 2007 and started his work as an entrepreneur in 2009.

"As a startup, I have not been successful in hiring others as my company is too small," says Michelini. Since he cannot afford to set up an official office, he cannot offer employees official work visas. One American he hired was sent home because he tried to use the address of the company's serviced office when applying for a work permit approval, which apparently doesn't count as a real office to the government. If a serviced office doesn't qualify, then any startup based in a coworking space is also bound to be declined.

For his current venture, SocialAgent.me, Michelini tried to hire three foreigners: a Canadian PHP developer, a Dutch programmer, and a Greek UX designer. He says all three were nervous about not having proper documentation. They initially stayed on business or tourist visas, "but in the end of August, it got very difficult. The Dutch programmer got very stressed with his girlfriend about the situation and moved back to Holland. The Greek was only issued a 15-day single entry tourist visa, so he relocated to Hong Kong." The Canadian eventually left, too.
I try not to be a complainer, I have been really working on controlling my temper. I have even been listening to zen tapes (Thanks Vlad) and trying to balance my "inner and outer being". But just to update everyone on the current struggles I'm facing as an entrepreneur in China, heck, as any entrepreneur outside of their home country trying to start a business.
I try to put myself in the shoes of any overseas entrepreneur – and I wonder really how hard it must be for a Chinese entrepreneur to get things started in USA. Though I think if you're a hustler and talented, you'd find a way.