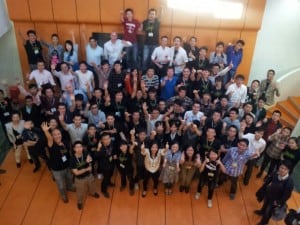 Words cannot describe how I feel this Monday morning….the passion, the emotions, the excitement from this past shenzhen startupweekend was surreal. Its about the sponsors, the mentors, the judges, and most importantly, the entrepreneurs who came out all weekend took risk and time to build something!
We had some mobile apps made in a weekend! We had database driven websites, flash videos. Overwhelming amount of work, passion.
1st place Winner: Dress real clothes matchmaker for girls to help pair their dresses
2nd prize: pengpeng store– NFC (near field communication)
3rd prize: T-plus, crowdsourcing t-shirt business
I'm getting tons of people asking me for the results – want to type more but have a meeting with more Shanghai investors – will finish this post later!
For the record, we were updating and adjusting judges and mentors all the way to the end. Because we are always updating shenzhen.startupweekend.org, I want to have these judges and mentors in this blog post:
Shenzhen startup weekend judges
Boyd Jones
Venture Partner at Co-Power Venture Capital Co., Ltd.
Kevin Chiu
Founding Partner Eagle Fund
Frank Yang
Copower
Leo Wang
Pre Angel Fund
Albert Yao 姚海波
IDG CAPTIAL
Cyril Ebersweiler
Founder at HAXLR8R
Startupweekend Mentors
Marshall Taplits
Vikas Bhandari
Director of Operations Cordia International Corpo
Benti Xie 谢宏中
www.Chinastartup.cn
Andy Yu
IDG Capital
Chang, Liang 常亮
Investment Manager,FerryVC 投资经理, 源渡创投
Arrow Dong 董建强
VP(副总经理), RCF Asset Management 深圳融创富资产管理有限公司
Mihran 米然
Dianboom.com
Phil Xie
Investment Manager 投资经理, Morningside Venture 晨兴创投
Shawn Michael Cui
VICE PRESIDENT, Silicon Valley Bank
Kenny Xu 徐刚武
Angel Investor
Zhang Xun
Chongqing Sci-tech Venture Capital Association
Chris Gormley
China Manufacturing expert, Founding Partner of a Micro Multi-National Corporation based in 6 countries, Partner in several successful start-ups in the electronics and IT field. University study in North Carolina, UK, France, Spain, and Mexico.
Tuesday, April 10, 2012 update
So far, the top 3 startups have already been discussing investment from some of the judges
– DressReal – Leo from Pre Angel, got offered the same night.
– Peng Peng store – Andy from IDG is discussing investment
– T Plus – Robin Luo from HGI financial is offering 200,000 to 300,000rmb for 10% share
Also, I was just invited from USA HQ to be a facilitator at the upcoming Seattle Startupweekend May 18 – 20