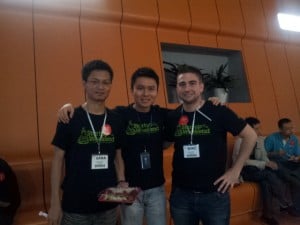 Its saturday afternoon here in Shenzhen's 2nd official Startup Weekend! We have 12 ideas / startups / teams going strong and I'm going to be the first (in English at least!) to write about them:
Team #, Team Name / Idea (if no name)
#63 – Business Capital Bridge – a platform for capital matchmaking
#18 – Good Try online dressing showcase
#34 – Solomon Card -a single "SOLOMO" card to replace your phone as your wallet.
#27 – tourbook, a facebook for tour groups and trip planning
#51 – menu ordering mobile application – replace the need to use a menu at a restauran.
#24 – Teams Up – recruit team members for projects online.
#38 – Pet connector, an online community to match pets and their pet owners with other pets / owners.
#37 – Dress Real – online website to help you match your clothes.
#53 – Social Party games, ways to play "rock paper scissors" with friends at a party, on your mobile phone.
#77 – Healthcare system management, manage Chinese medical patients online.
#80 T-Plus – crowdsourced t-shirts online
#33 – platform for skill exchange.
THESE ENTREPRENEURS need to start putting some names to their ideas! Almost finished with day 2 and we still have a lot of them without firm names! go.co (registrar of the .co domain extension) is sponsoring all global startup teams – and giving away 1 year domain names for participants. Lets get some decisions on names guys!
Language is primarily Chinese – only about 10 – 15 "foreigners" out of the 97 who attended this weekend's event.
LESS TALK – more doing. Will blog more later.