almost 2 years since moving to China. People ask me, Am I getting Tired of it? Am I getting worn out, losing motivation?
I AM MORE MOTIVATED AND STRONGER WILL THEN EVER BEFORE
Why? Because, I have been through the ups and downs. I have had:
* government make me move my bed! ,
* have people claiming me for money, for work I don't agree they did. Deal reversals.
* Chinese factories cheat me out of money, (but it wasn't in the specification!?)
* Customers have cash flow issues and not able pay me, with their goods on the water.
* Pushing travel agents to get a Passport China Visa to stay in the country!
* Patent lawyer disputes. Contract negotiation
* Robbed of my laptop during a restaurant opening radio show!
* Public speaking Xiamen SMX internet conference to Chinese internet enthusiasts
* Multiple thoughts of bankruptcy, personal and corporate. Negotiating with banks ++ (hate bank of america!), suppliers, customers.
* Chinese hospital – Sleepless nights due to food poisoning, rashes, unknown sicknesses.
But all these things BUILD CHARACTER. Make you look at the world in a different way.
And then, you think, how bad can it get? I'm alive. I'm learning, this is my MBA school.
Self motivation is the most important part of growing as a person. And I am working on this motivation to get through the tough times, and the good times.
Am I going to give up? – well, I am not gonna quit until the day I die. But in some ways I have quit in certain endeavors, but re-focused, learned, about business, about myself, and about what I want to do in my life.
In business….self motivation will get you through those sleepless nights when you're thinking you can lose $20,000usd on a non-payment from a customer. Or limitless losses on a quality control problem….hearing a customer say "I AM GONNA LOSE MORE THEN THIS ORDER VALUE, I AM GONNA GET CHARGEBACKS, I AM GONNA SUE YOU FOR EVERYTHING I HAVE"
Those phone calls make you stronger. They test your personal motivation, your self confidence.
And the endless haggling from all sides. Customers want cheaper price. Supplier says material prices are increasing. Mistranslations between Chinese staff and the factory 2 hours away.
I am a junkie of chaos I love to start new ventures, to go into the unknown, where no one knows what the rules are – and MAKE SOMETHING OUT OF NOTHING. When there is chaos and unknown, I feel the playing ground is LEVEL – it doesn't matter how much money you have, its about working off your wit, your skill, your internal senses. Convincing someone to do a deal, without knowing what the next day will bring.
Its the energy rush.
And now, 2 years later….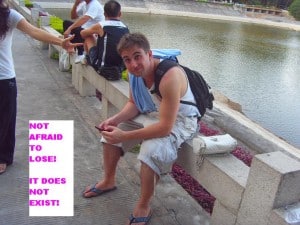 I am stronger, I can read people better, I know my risks. Its more fun, because I am on the other side of the table. So that is the biggest motivator.
AND – I have also gotten to build a good network of GOOD PEOPLE All over the world, I have people I can better rely on, know who to call for what. And its not just for benefit of myself and my business, but I love to connect one friend to another. And that is the best feeling in the world.
Because I know if I make my friends stronger and more connected, then we will all win together Its all about long term value. But that is the hardest one, because you don't see money income for so long, but once it hits….it really hits. And I hope that is soon…
BUT I SMELL SUCCESS. I feel it….it is coming, things are connecting. I am going to get back invovled with newyorkbarstore.com and turn it around. I am going to build ecommerce shops (newyorkbarstore, 98products) around the world, with e-fulfilllment (loadpipe) and new products (electrapour BRAND), with a good mix of WOM (word of mouth – bars, personal networks). I am even working on a distribution deal in BRAZIL (love to make that business trip!)
And this rush of energy, I am re-born. I am free, I am working deals, and I have good staff to help support the execution. Its coming together.
So now, I am excited. And ya, maybe some of my companies will hit bankruptcy, or will lose in a market. But, keep the self motivation strong, look at the big picture, learn, and go again. We all heal, maybe there will be financial, legal, or other problems, but the bruises build character.