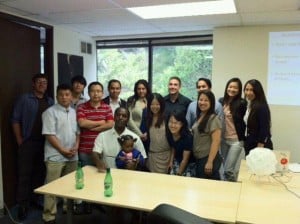 Yesterday afternoon we had a lot of fun and met a lot of new people at a last minute planned "China business workshop" in Los Angeles. I had thought it would be a good idea to get people together in LA to talk China business while I was in town – share stories. I love networking and bringing people together – maybe in the future make it a more formal and bigger event. It was a test.
I was so lucky to have been connected to Vincent from my buddy Erik in Shenzhen about his company office. It wasn't confirmed until Monday this week, when I was almost preparing to fly out from hong kong! So that took a load off my shoulder as I left on the airplane.
Yesterday we took down a list of the people that came, about 20 people throughout the afternoon.
David S – wants to move out to China or invest in China somehow soon. He and i have been talking on twitter for some time about it. Hope he makes the move!
Ken Wong – manager of the LA warehouse for 4px chinese ecommerce logistics company.
Fred – my friend I met on Sina weibo! Chinese who has been in USA for 1 year to buy products in America to sell in China! (how the world has changed…)
Mike Tan – works with Ken in the 4px e-commerce warehouse in LA.
Vincent – owner of the business that let us use the venue! Does ipad/iphone game development
Attila – domainer, internet dude that had done business in China 8 years, now living back in Arizona, USA
Dennis – director of international business development of All Recipes – he's investigating how to build up his Chinese website, and met me in China last month
Mike Gavigan – accountant interested to learn more about how people open Chinese businesses / companies
Wei – friend of Mike, visiting USA for business development.
Dina Ding – has opened companies in Beijing before. Exploring opportunities for new China business ventures.
Lori – friend with Dina, also interested in doing more China business.
Lisa – owner of Fulfillyourproducts, an e-commerce fulfillment center in Santa Ana, and a good friend of mine
Tony – Lisa's husband, also responsible for the printing business they do.
Sharon – from New Egg e-commerce, in their LA office, Chinese living in USA a few years now.
Justine – also from New Egg, just re-located to LA for 1 month after being in New Egg's Shanghai office for a while.
Abiy + his daughter – my friend from college, he does localization for companies in over 20 languages. I remember the time I spent with him in Los angeles before his daughter was born, eating Injera – how time flies, his daughter is one and a half now!
Sona – just heard about the event the day off and came – he is a passionate connector with some China government connections always looking for new opportunities
Kristine – friends with Sona, she works with her family law firm.
Impressive group of people! Its so awesome to get passionate, people together about a topic and share ideas.
I went through my powerpoint "Adventures of an American doing business in China" and did a very high level overview of how I came to China, how I hired staff, registered a company (see blog post how to open a WFOE Chinese company), and the ups and downs of my experiences in China business. I like to share the real deal – and I think people learn the most by hearing real life examples.
We did some sharing of ideas, questions and answers. Some said I should also have talked more about Sina Weibo, QQ, and other tools to use in China business and social networking. But again, I didn't know the audience, what people wanted and this was a first time test.
I'm really excited to do this again, and bring Chinese business people to USA for the first time. Really start to build a bridge. Many of the attendees were excited and support us for future events.
Time to drive to San Francisco now, cheers!