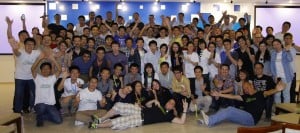 Another amazing weekend for startups here in Shenzhen! So glad I made it back after Chinaccelerator for this Global Entrepreneurship Week (GEW) global battle and Shenzhen, China is representing!
Our team has been great, and we're getting sponsors earlier + more supportive, with Singtel Innov8 as our platinum sponsor, and Tencent Open platform , Qidian Cafe, and Shadstone (my consulting co) as regular sponsors helping out.
Friday night we held the event in Tencent (QQ) headquarters like last April's startup weekend event. This time, it wasn't inside the building, but instead in their theatre room. 94 participants came in, majority Chinese, but about 10 – 15 western entrepreneurs as well. Language is always the most difficult part, as the majority of this event is in Mandarin Chinese.
Friday night was smooth sailing, this is now the 3rd official startupweekend (had an un-official BootUP! as well) and now I have organized and participated in a total of 7 weekends (4 in SZ, 1 in HK, 1 in GZ, 1 in Seattle), and the team here as been in getting more and more organized. Such a breathe of fresh air for me and Kawai and Nik – the 3 co-organizers. We have a great volunteer team that has been so supportive!
Team formation worked smoothly, 18 teams formed. A bit lower on the programmers this time than the previous event, causing a bit of an issue.
Friday night closed up at 10:30pm, having to push some of the teams out of the theater, they were so energized to get working!
Saturday and Sunday we held the rest of the weekend at Qidian startup cafe, which is where in April I was considering joining a new incubator there – the cafe has been open now and they were so excited to get the Startup Weekend to be held there.
Saturday I wanted to be there, but had to attend the hero meets hero e-commerce summit over in Dongguan (boy, was that a big commute to do in 1 day!) but Kawai, Nik and the organizers did a great job and things went along smoothly.
Our judges were awesome, mentors there all weekend. And people are talking about having this quarterly instead of twice a year.
Thinking how to take this to the next level.
We recorded our regular video, but its 2gb and I'm having someone edit it now!
Our top 3 winners – from the 18 teams who pitched:

No.1 Caring
No.2 Milk Delivery
No.3 Event Manager

About the first place winner:

caRing

In one line it is a Electronic Ring/band worn around fore arm : the companion hardware device that works with your smartphone (similar to pebble and a little more features )

Features include:

– Text
– Distance meter
– Buzz lover
And of course, some awesome and informal pictures on the fly.