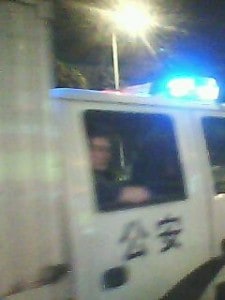 Yesterday was invited to a special dinner party for a radio show. The radio show showcases new restaurants in the area and takes guests to rate the food and atmosphere. I was the only foreigner (white guy) in a table of 12 or so. The owner / manager of the restaurant was also there. I took my laptop bag with me, as I was not planning to go back to the office afterwards. I put the laptop bag behind my chair. At the end of dinner, around 7pm, the restaurant was much busier…and I noticed my bag was gone. The group helped me a lot, found witnesses proving my laptop bag was there.
pulled video tapes, called police. A friend took a photo of me in the police car (above) and he got chased by the police – as its banned in china. Ran a police report, but got a bit nervous telling police what I'm doing in China, where I live, didn't have a passport on me, but the driver's license got by. After filing the report, went back to the restaurant to bargain.
Taxi back to the restaurant, they apologized, but I wanted a financial compensation. After some bargaining, I said my laptop was 8000 chinese yuan (approx 1200usd), so they offered me 2000rmb (approx 300usd). I said at least 50% should be paid, since it was at their place of business. They then claimed that there are postings stating you are responsible for your own goods there, but because I am a foreigner, and that I was a guest of the radio station – they agreed to 50% – or 4000rmb.
Everyone could not believe I actually got an financial compensation from the restaurant. Because I am a white guy, as well as it was a special event, probably is why I received any cash. As I am told, if I were a local chinese, I would not receive anything and be blamed for being careless.
I know if this happened in USA, I would not receive anything from the restaurant. Now I am typing this blog entry on a new laptop I bought with the 4000 cash. Its a smaller laptop, but gets me by. Will use it mainly for browsing, email, and chat anyway.
Thanks Chinese restaurant. Friends!
Follow up, March 17, 2012
A blog reader sent me an interesting email about filing a Chinese police report
Good afternoon Michael and sorry to bother you.

I am interested in your online blog about your unfortunate incident regarding your lap top, it was nice to hear that you got some form of compensation though in a very tough country.

The reason for me email is as follows, Can you advise where on your police report do they state your name, only I have several reports of fake police reports being sent to validate claims, as I cannot read Chinese it is difficult to spot.

Also would the Chinese police write a name in English or would it be in Chinese?

I hope you can assist and look forward to hearing from you.

– Matthew
To answer Matthew's question, Amy Gu my assistant checked into seeing if a foreigner can have his/her english name on the Chinese police report.
You can find the name of the person who called 110 ( police station) in the police report, pls check it in the attachment.
Nantou Policewoman said they could put the English name in the police report if the foreigner brings his passport to the police station and tells policeman what happens.
Amy even highlighted / pointed out in the attachment to the right where the name would be on the Chinese police report.