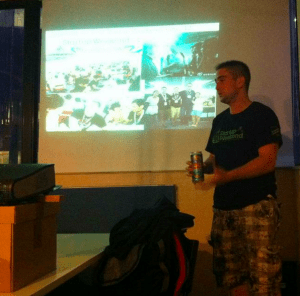 Took a quick 2 day trip to Hong Kong for business meetings, and love to meet the guys at Startup Monday and asked the facebook StartupsHK group on Sunday if there was a speaker lined up.
Thanks for the photo Jeff Broer from Grayscale, you rock!
hey guys, I'll be in Hong Kong finally visiting from Shenzhen Monday night til Tuesday night – before heading back to Shenzhen and then Shanghai for a couple weeks.. Is there a Startup Monday tomorrow night? To update you guys on Shenzhen startup community:
Seems like in Shenzhen, weekly meetups are a bit too much, and their lined up speaker couldn't make it – so Casey put me in to catch everyone up on the updates in Shenzhen's startup community. I like to work under pressure, and Sunday night / Monday afternoon I combined
More and more "startup cafes" are opening in Shenzhen
Beta cafe , San W Cafe, and government sponsored cafes. Seems the Chinese VC and startup community is finally paying more attention to Shenzhen and south China.
I would say that 3W is the first one getting more formal and organized, already starting to host events and meetups.
China is really pushing for innovation
I've been talking about this transition China has been going through – as "Cheap China" is going away, so does manufacturing. Chinese need to learn more about sales, marketing, technology. The government knows this. Working on investing and supporting innovation in large corporations as well as in entrepreneurship.
Seems the biggest weakness isn't money, its event organizing. I've been told many times this is what the government is seeking out the most.
Startup Weekend developments in Shenzhen, Guangzhou
Startup Weekend is going along well – had a great on in April in Shenzhen w/ over 100 participants, and then last weekend Guangzhou rocked with 82 participants and more and more mentors / sponsors supporting.
I mentioned my USA trip, efforts and brainstorming how to best include Chinese startups with America and the SW entire global community. How to bridge…this is the challenge. And I'm still listening to anyone who has ideas.
I did mention about one idea, that even if Chinese entrepreneurs copy American startups that are successful, many times they still fail because they don't understand what in the American startup business. And that the opportunity is to have the Chinese entrepreneurs understand what makes these business models work, not just copy.
More Cities Throughout China want startup communities
We are getting calls from Chongqing and Harbin, Beijing and Shanghai, to host more startup weekends and help them better build up a startup community and spark innovation. Open to suggestions.
In the crowd, Michael Bruck was there, and mentioned he has a coworking office in Chongqing – again, networking and being open has helped so much.
Status of Weekly Startup Tuesday in Shenzhen
We were holding weekly Startup Tuesdays, at Chai huo hackerspace, but weekly seems to tiring for the organizers as well as the attendees, so we are currently brainstorming ways to lower the quantity and increase the quality of the events – maybe monthly – at different spots in Shenzhen – as the city is so spread out.
Shenzhen incubator?
Ther has been talk about an incubator, but still early stage talk…there is a lot of demand from investors and startups, but really we want to make sure we have a good core team of facilitators and mentors! Honestly not the top of my list, I am supporting what I hear – my role is to connect and market.
Cooperate with the government or not?
Another question is to cooperate with governments or not. Something I still haven't personally made a decision on, as I am not sure what the governments demands would be for any sponsorships or financial contributions. Got some ideas from the audience.
The slides are here for those that want to view online or download
It is always a pleasure to get over to Hong Kong, and my 2nd time to present to the StartupsHK crew. From what I think is obvious, many had gotten some fresh new perspective.