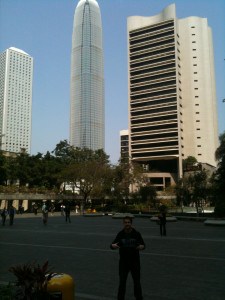 I hesitate blogging on this topic, because I believe I am one of the extremes in this case….I have fallen in love with starting and making new ideas and new projects. This is a great article – Are You Afraid of Good Ideas? which spawned the idea for this blog. He titles the article towards people who are AFRAID TO START……so when I started reading it, I figured it would just talk about those corporate employees who never take their dreams and ideas to life…..
BUT, he puts a different spin on it, and it scares me a bit because I feel I somewhat can be categorized under one who loves starting ideas and is addicted to it. Here is an excerpt from his analysis:
Fear on the left, fear on the right

Some of us hesitate when we should be starting instead. We hold back, promise to do more research, wait for a better moment, seek out a kinder audience.

This habit is incredibly common. It eats up our genius and destroys our ability to make the contribution we're quite capable of making. Call it hypogo–trapped into not enough starting.

Surprisingly, the flip side is also true.

Some people deal with the fear and hide out by doing something else. They overstart, constantly dreaming up the next big thing, bigger than big. They might start a zeppelin transit company on Monday, and then drop it for a Stirling engine patent application on Wednesday, and perhaps, if that doesn't take off in just a day or two, aim for a business focused on home delivery of notary services by the end of the week.

Fitzgerald nailed it when he described Jay Gatsby's attitude: "What would be the use of doing great things if I could have a better time telling her what I was going to do?" It's easy to fall so in love with the idea of starting that we never actually start.
Life is hard right? Either we are too scared to start something, or too scared to finish what we have started?
TOO SCARED OF FAILURE
I will be first to admit…yes, one reason it is hard for me to commit to 1 single startup idea is the fear of failure.
Do stock investors buy only 1 stock with all their money? NO. They diversify. I do understand its hard to run a few businesses at the same time….but I have to feel entrepreneurs need to do something to keep themselves safe.
I am fully invested in my businesses. I know so many entrepreneurs who take out loans, every cent they have in the bank, and put it into 1 single business….and then they are so WEAK when it is having financial problems.
I will not name names, but even at this very moment I am talking to friends in that exact situation…..they dedicated everything to 1 single project…..and then they got into a bind.
How is that smart? I cannot understand this.
Sure, I have to admit, I am afraid to put 100% of my time, money, and life into 1 thing….because that is the same as gambling on the the stock market in penny stocks, right?