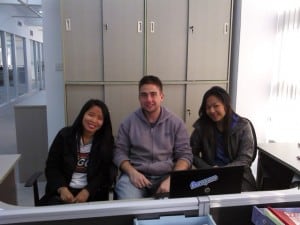 Spent Monday in Hong Kong visiting a lot of my friend's offices and apartments on Monday, and as I caught them up on what I am doing these days, they say "Mike, I thought you were opening a company in the philippines", "hey man, didn't you say you were lecturing at Stevens Tech in New Jersey, USA?" or "I thought you opened a retail shop in New York for your bar supplies"…..
Yea yea…I know, 2010 was a transitional year for me…I learned so much, met so many people all over the world, and got fresh perspectives on living in different regions. After all was said and done, I pretty much went back to where I was in 2009, back to ecommerce and sourcing from China. This time though, another chance in China with a better group of people….with some good people from fiveislands ecommerce warehouse.
I just love to market and network…..to listen to what people want, to feel what they are thinking, and solve those problems and create opportunity. So I am here in Dongguan, China building up a team, starting with 2 new staff, Amy from Guilin China and Lesney from Bulacan, Philippines. One will cover the China side, and the other the Philippines and English side. Hope they know what they are getting themselves into.
First we will fix the bar products supply chain and management issues, I think this will be a good learning and training process to get their feet wet and experience things rather quickly….while also getting exposure to the dongguan ecommerce warehouse, fiveislands, environment soaking up all kinds of logistics and sourcing knowledge.
I was a bit nervous getting them started again, it has been a while since I have managed full time people in China, closing the Shenzhen office mid last year….I was wondering how my China business life would turn out. There were some hiccups getting Amy started, she had to put in a 1 month notice at her old employer……and I had to wait til after Chinese new year to start recruitment. She was nervous I could wait that long for her to start, and tried her best to leave sooner, but her employer really tried to keep her.
Lesney is new to China, excited to experience it after leaving the Philippines in fall of last year. She has a technical degree there and has a decent understanding of internet and the English language…so I am excited and will throw a lot of various projects at her to see what sticks and where she gets the most traction.
That is my training style, kind of sink or swim with things….throwing tons of new information, training materials, long list of tasks…..overwhelm and then hone in. Because most of us have no idea what we really like to do, especially these younger girls….they have to experience all kinds of various work tasks and then come back and say what they enjoy to do. ITS ABOUT ENJOYING WHAT YOU DO. Being passionate.
Overall, I am happy with where things are headed and confident 2011 is going along well, a bit slower of a start then I thought, but maybe in the prior years I went to fast and that was one of the problems I had.