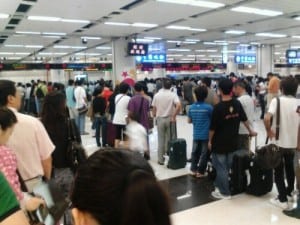 Again blogging on my mac air from a bus in hong kong….I guess it is pretty amazing I can type as I have a screaming cantonese women yelling in the phone behind me, crying baby in front of me, and a fat old guy with his setback pushed back up against this laptop screen….but ***** testing your limits is key…and if I want to do international business, travel globally, and meet new people and cultures, I just gotta deal with this environment
So I've left Shenzhen…after rushing around like a madman to get last minute meetings and sharing information about startups meetings while I'm gone. Spent the day and night in Hong Kong meeting friends like Gary and Leon, saw Jon at Boot.hk which is under renovations….just intense quick meetings with others….getting ideas of what I can pitch to my American friends when I arrive back stateside.
I still love this chaos, but I am much more prepared and aware for this trip than last year….for one I am much more focused and clear on my agenda….I have been working harder to confirm exact meeting times and places rather than "I"ll contact you when I'm in town". Also I know I'm going to be focusing on ecommerce between USA and China.
And also I've been even more open on my blog . getting emails from readers I have never met that want to meet me when I'm in a specific city on a specific date. Emails like the below:
Hey Bud!

Read your blog today!!! Looks great and I really wishing I can come
out and join up with you in China at some point. Looks like we'll
only be chilling the weekend of Jules' weekend per your schedule.
What's your plan Sunday?

LA sept 21-23,
NYC/NJ Sept 24-Oct 2,
Florida Oct 2 – 8,
San Fran Oct 9-12
then back to China

Any chance you'll be back in December? I've booked 8 nights in the
Keys through new years! You should come out and party with me and
Shanthi! I'm going to ask them this Friday (I
think?).

Call/Text me when you get on the flight Friday night so I can track
your flight.

T
So here is the more detailed agenda now, from the more basic on a couple months ago just explaining the *** flight to USA being booked **
Wed, Sept 21 – Land in Los Angeles (LAX) in the evening, meet with ecommerce warehouses, distributors, alliances…..discuss a new China / USA ecommerce internship program exchange…and investigate opening a USA sales and business development office.
Friday Sept 23 – red eye flight from LAX to Newark (EWR) (feel like I'm in that song by Everlast…) … depart
Saturday Sept 24 – the red eye arrives in Newark around 7am, Tayan is picking me up, and we have to meet Jules at noon for the WEDDING party photos. Hopefully my Tuxedo is ready – I had to fax my measurements over to the tux shop.
All day wedding with Jules and my Stevens Tech buds, not sure where I'm staying I didn't get a hotel room yet
Sunday Sept 25 – probably spend more time with Julian and my friends there, maybe go to Hoboken, NJ in the afternoon
Monday, Sept 26 – visit my alumni Stevens Tech (www.stevens.edu) see friends and professors there.
Visit New Work City coworking space, also hope to see loose cubes in brooklyn. Meet a distributor in Bronx, NY. Meet Shipwire about ecommerce solutions.
Thurs, Sept 29 – speak at Stevens Tech to the "Technogenesis" class about Chinese business, and how selling in China is different from selling in USA.
Saturday, Oct 1 – hope to get up to connecticut for a day or two, catch up with my hometown crew from Hartford and New Britain!
Monday, Oct 3 – fly to Florida, meet my parents. During Florida trip, visit some distributors, possible tequila brand that wants to sell in Asia / China, do some banking and company admin (my USA company, shadstone associates, inc is registered in florida)
Saturday Oct 8 – basically a full day of travel… fly florida to jfk , train to newark, fly newark to LA.
end in LAX at about 8pm saturday night local time….deciding to stay in LA or …. (see below)
Sunday Oct 9 – not sure, would love to get to San Diego to see Piotr and his new baby. my flight is out of San Francisco on Oct 12….have some meetings planned there, and also hoping to get to Seattle to meet Gillian from SEOmoz.org
Spend some time in Silicon Valley
Wednesday, Oct 12 – fly San Francisco to connect in Beijing and land in Hong Kong.
Thurs Oct 13 – Probably stay in Hong Kong for the day, maybe 1 night….meet up Gary and give out some gifts, podcast kit! 🙂
Oct 14 – back to work in Shenzhen!
Its 430am right now, I'm working with USA phone calls and emails trying to keep things aligned.