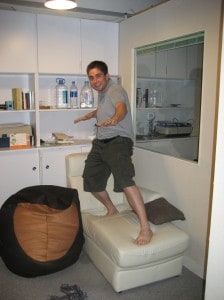 I'm all about the new movement in life, flexible workspace, couchsurfing, community, social media, minimalist. I don't think I am crazy, I just think I am maybe a more early adopter. I have stated I'm fully embracing couchsurfing And What is it to OWN an office? To own full time workers in a full time office? Or hotel renting in a new city you have never been before? Its a process, a transition moving into minimalism, LIFE IS ABOUT LIVING, not about owning things! When we die, we can't take these possessions with us.
Recently got an email about a new article written about why you should couchsurf this summer, thought it was good enough to share here today:
We would love to share with you an article that we just posted on our own blog! (10 Reasons to Consider Couchsurfing this Summer) is linked below and could be a fun way to share this announcement with your readers.

(http://www.bestcollegesonline.net/blog/2011/10-reasons-to-consider-couchsurfing-this-summer/)

It has been a sincere pleasure to read your great content.
Can't really tell if this is some "SEO spam email" but heck, it gives me a good topic to blog about.
Even my good friends think couchsurfing is crazy and maybe a bit dangerous. But I get to know people so much more when couchsurfing! Think about it, the most bonding time to get to know people is in the evening, to learn the culture, how they live, their habits, etc. I have learned so much more about different cultures and life perspectives couch surfing.
So for those of you wondering………Its not just a way for cheap travel!, but instead really getting into a culture. Especially when traveling internationally. I have learned so much about Chinese and Philippines lifestyle by living in their home. By living like a local. I know its crazy, but I prefer it over a hotel! I get a connection with the family, the neighbors. See life truly from their angle. Whereas if I were staying in a hotel, Sure I would tour the city with them, visit company offices, have dinner. But for the most part, dinner is over, depending on the people you're with you'll go to a bar, or a cafe, etc. Chit chat….but then you separate at night, you stay in your nice hotel, they drive/taxi back to their home.
I think at that critical moment, a lot of experience and culture and connection is LOST.
I know, hosting a couchsurfer is much more difficult than hosting a friend visiting and staying at a hotel. As a host, sure we want some time off talking to people, explaining things, making sure they are comfortable, etc. Its also maybe a bit invading, the couchsurfer is inside your home, using your bathroom things, going in your fridge, etc etc.
Maybe Americans feel more strange than say Europeans. I really think it comes down to culture. Americans are brought up to OWN things take possession, ownership – THIS IS MINE. Where I feel European or most other cultures learn to share and experience other things and people.
Yes, this sounds kind of "hippy" lifestyle, and it is. But again, its also environmental and GREEN. Share instead of your have own things and place to stay, i have my own things and place to stay. Because that means the world has to manufacture and create MORE STUFF (as George Carlin says so well) We have to learn to consume less.
Again, I know its hard for people to change their mindset and lifestyle. But couchsurfing, minimalism, traveling, social and community is a great way to learn culture, be environmentally responsible, and focusing on life instead of numbers in your bank account.