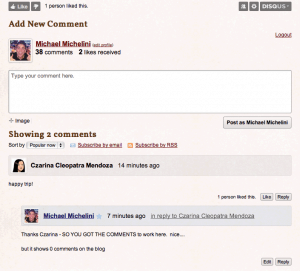 Was wondering why the blog wasn't getting comments for the past week or so – SOME DATABASE problem…so my team helped me install Discqus blog comment systems, so its hosted on their server and more "social" where you can use their login on this blog and other blogs.
I didn't choose to use "facebook" connect blog comments for a couple reasons….but main reason I didn't want the comment system to be blocked in China (as facebook.com is blocked in China), but also, I am trying not to give everything up to the facebook gods.
SO SORRY if your blog comments here didn't post during the past week!!! PLEASE, try to go back to that blog post and re-post your comment …..more headaches for me…right when I'm traveling to USA.
So seriously, this blog has been growing in visitors and commenters….and in google more and more as social media becomes the way to promote your website….THIS BLOG has been exploding in traffic and its becoming more and more important for my business…
But really, there is a lot behind the scenes in the IT stuff for this blog…..its just a wordpress blog! I think to myself it can't be that difficult….
blog moved from blogger to wordpress a couple years ago….China blocked the blogger blogs….lost some photos even when I manually patched as many in as I could.
new template AGAIN, here below is a preview..I tried my best to have it live by the time I arrived in USA, but maybe this weekend it will be launched.