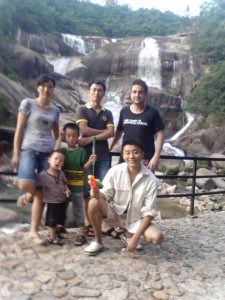 Typing this sunday afternoon, waiting for the bus from dongguan to shenzhen….what a long and perspective-building weekend! Started on Friday night, rushing to catch last bus to da lang district of dongguan from Longgan district of Shenzhen. Been getting better at traveling in China alone, but when I'm in these massive bus terminal networks it gets overwhelming. Luckily I figured it out at 7:15pm and got the last 7:30pm bus to dalang station. My friend, David Zhang, from geekcook was making sure I was ok with regular phone calls and text messages along my travels.
After about an hour bus ride, I arrived to meet the geekcook crew, we drove to their office and warehouse to finalize which geekcook products to first enter usa market and ship to the LA, USA warehouse. It was good to meet his staff, it was also interesting to note that his mom and dad were also contributing to the business, as well as friends and coworkers and business partner's wife and children on the scene. Its like a big family, not just a company. He knows from my blog that I have a mom, dad, and sister in my immediate family so he let me choose some gifts for each of them to take back on my USA trip. I told him I'll take a group photo of them each wearing the t-shirts..
yes, we are digital geeks…haha.
We then went walked to a street bbq that Friday night, David is pushing me to Da Feng Men which would be a mix of hiking to the river dock and then rafting down the river.
I got to spend time with some of the children, which were very jolly and curious – healthy kids. One of them, Leo, first talked about the sept 11 tragedy when he heard I was from USA. Made me wonder how much its talked about in Chinese school.
I wasn't advised/allowed to take my laptop with me….never got a clear answer but it would have been difficult to carry and store anyway….but I'm so addicted….it was a necessary break. And my huawei android tablet is giving me so many problems, so gmail sync issue and I couldn't check emails. But maybe this was a needed problem, to help me get away.
I'm blogging a bunch of photos from the hike….didn't get to take pics in the river….too wet! It was a pretty refreshing and exhausting day…but being a Saturday the line was soo long, maybe 1 hour wait, standing only.
We spent the night, about 8 of us, in a small village outside of Guangzhou called Zheng Guo, and being a foursquare addict, I couldn't find any locations at all in the whole village….David helped me add one at the street bbq. The amazing thing about China, even after living here 4 years and being open to trying any food, there is still aways some crazy new food dish that I haven't heard of or eaten. This time it was duck mouth…..like strips of the beak chopped up. Rather tough, but did have a ok taste. David also mentioned he was 22 years old and had caught a live snake in the woods and cooked it that night and ate it….crazy.
We rented rooms at a farmer's inn….not a hotel, but really a home owned by a farmer and he has the 2nd and 3rd floor of his home setup as a hostel / budget inn. One bathroom on the floor, 3 rooms, and a common family room. Very relaxed….the whole village was maybe 3 blocks wide, right along side a freshwater lake. Some took a night swim, but I just relaxed and breathed the fresh air….hadn't had fresh air like that in a while living in this big metropolis….
Today (Sunday) we woke up early (again) and used our own inflatable rafts and went up and down the river a few hours….wish my Tablet hadn't been giving me problems or I'd have more photos.
We had a nice lunch today, alongside a massive wedding reception…I also get tons of stares being the only foreigner all weekend, but I'm used to it, and also I agree with others, Chinese people are nice, they are just curious about foreigners.
I hope to grow my cooperation with geekcook "family", they really are a modern and young Chinese company, building a brand, and also standing for something in China. They just wished me well on my bus trip back to Shenzhen and also my USA trip. David tells me to say hi to Obama for him. hah.