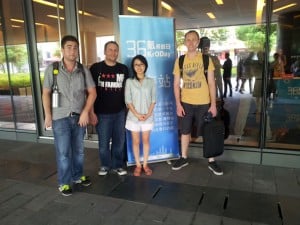 This Geeks on a train (GOAT) trip has been quite a rush! Getting back now to Dalian city of China (landed Saturday night) and spending Sunday catching up on emails, project meetings, and laundry!
GOAT (Geeks on a train) has been an amazing trip with the Chinaccelerator. Didn't even expect it when we started the program on August 1st. We arrived in Shanghai about 10:30am on Wednesday (after a 16 hour slow train ride from Beijing!) and went to work in XinCheJian coworking space for mentor meetups and working time. Todd, the program manager of Chinaccelerator, asked me to be a backup speaker for the 10×10 Shanghai event this Friday. I was honored and quickly accepted, but had to put together a 10 minute talk about my Social media experience.
Had to miss the SEO talk by George Godula as I was invited to a last minute dinner with Pre-Angel fund manager Leo Wang (as a special bonus Stephen Bell was there – another angel investor).
getting out there, hyper networking, meeting more and more influential business people and investors.
Thursday morning heading to meet my good friend Liu Yan from XinDanWei coworking space, talking about Startup Weekend and other events and startup community building, as well as communicating more between cities.
Lunch and Learn at People Squared coworking space on Thursday afternoon, where we shared our startup pitches in the room, and then also heard some local startups in Shanghai that were working in People Squared space.
Thursday afternoon a few of us were able to squeeze in a last minute trip to see the newly opened Shanghai branch office of Innovation Works incubator (Lee Kai Fu managed, the Ex-Google China CEO).
Thursday night more hyper networking meeting Doug's SEO buddies and then Nicky's Ogilvy contacts to get more feedback on the Weibo Agent system.
BRAIN OVERLOAD but trying my best to soak it all up.
Friday morning up early to visit Ushi.com (Linkedin of china) and then head Dominic, their CEO, talk on his business model and strategy. He liked the Weibo Agent startup idean wants to signup!
Rushed off to catch lunch with another friend / beta user of Weibo Agent, Ike, who is doing consulting for China market entry for USA brands. More and more notetaking and feedback "digestion".
Steve Forte, one of our advisors for Weibo Agent, flew up to Shanghai from Hong Kong to speak at 10×10 as well as to also meet the rest of the teams in Chinaccelerator. Chatting to him in text messages upon his arrival at the airport.
Cut lunch off short with Ika, and taxi'd it over to the 10×10 event where I was confirmed to be a speaker (was on standby before). Jam packed room at the 10×10 (event with 10 speakers, talking for 10 minutes each) and I was the 5th, following Steve (hard to follow him, he's a skilled speaker!)
I really enjoyed speaking there, passionate about social media, cross border, and quick 10 minutes is perfect.
Below are my slides:
https://www.slideshare.net/mikemichelini/10×10-michael-michelini-social-media-for-startups

10×10 michael michelini social media for startups, Presentation Transcript

Social Media for Startups: Getting Inside Their Heads

2. Your Brand

Your brand is what people say about you when you are not in the room
– Jeff Bezos

3. Social Media "image"

– CEO / Spokesman (1 voice)
– Department shares company account
– Each worker has their own account (@Startup_Mary @Startup_John)

4. Social Media Cycle

Listen, Engage, React!

5. People Like REAL!

6. Don't be the Terminator

7. Be "JESUS CHRIST"

(C x R x I) S =T

•C = Credibility
•R = Reliability
•I = Intimacy
•S = Self Orientation
•T = Trust

8. Contact

• Michael Michelini, Weibo Agent
• Co-founder, CEO
• mike at weiboagent.com
• Twitter/weibo @michelini
After the 10 x 10 Shanghai speaker series, massive amount of name card trading, and then off to hot pot dinner with about 15 people. More drinks lead to more drinks, and then to a Chinese nightclub until about 4:30am. I'll let you fill in the blanks there.
Saturday up for breakfast / brunch w/ Steve. Then the Weibo Agent team and Steve headed to 36kr event – more hyper networking and then off to the airport to return to Dalian.
Tons of namecards, connections, feedback, and business development! Geeks on a train was a success, and I am ready to rock even more!