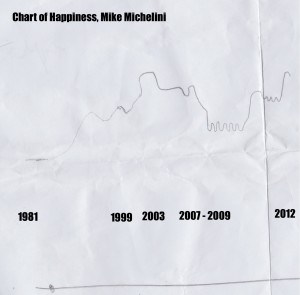 While in Shanghai, I had a mentor meetup with Liu Yan from Xin Dan Wei coworking community. The meeting was about how to be a good mentor, how to listen, re-iterate, validate and confirm, paraphrase, and give empathy. A great session and the community there is amazing and supportive! To open the meeting, we were all given a piece of paper and pencil to chart ANYTHING we want, and then present that to the group.
Everyone charted various things, such as spirituality (Lynn), Curiousity, Obesity, "being a captain", and focus. I chose to chart my happiness over time.
I was happy to have this exercise, as it was something I've wanted to think about and blog about for many years. Attaching the chart in the post, and will try to write about the main points below:
1981 I was born, I don't remember being born, but this would be the beginning of a person's "quest for happiness".
childhood – don't remember much but some core memories. Most were happy. Everything was new, new people, new places, new experiences. Would say this is a steady increase of happiness over time.
Spring 1995 – I remember graduating junior high school. I remember my core group of friends so excited about entering high school. I think the end has been happier than the beginning.
Fall 1995 – I started high school. I was put into a catholic high school far away from my hometown friends. I remember being so angry to be forced to go to a high school where I new no one, and it was so small. I ran for freshman class president, no one knew me and I remember being picked on saying "no one will vote for you, you're up against the most popular girl of the class, and her big brother is a famous soccer player". Somehow I tied (exact tie!) and Leslie and I were co-presidents of the high school class. Later in the year, she transferred out of the high school and I was the sole class president. I remember having to re-define myself in the school, make new friends. It was not a happy time.

But as I went through the years in college, I was elected class president every year. I was in soccer and baseball, I made a good group of friends. It worked out. But there was a lot of high school "gossip" and complications that I think a lot of us focus, so it was a bit of an up and down happiness trend.

Spring 1999 – graduated high school. Again, like 1995, I was so happy, there were parties, celebrations. Everyone preparing for their college, or work, times were good.
Fall 1999 – starting college – another down time in my happiness chart. I think its hard for me (or most people) to start something totally fresh. Again, I went to a college where I didn't know anyone, and this was much further away than my high school transition. I remember having to figure out who was "cool", who I could trust, etc. Again – I had to prove myself, build a network. But while it was up and down times, I think the further I went into college, the happier I got as I got comfortable with my surroundings.
Spring 2003 – graduating college – I think this was the happiest time of my life, or leading up to it. I was already accepted into Deutsche Bank after graduation, my GPA was pretty much locked in, and I was thinking this was the "end of my life" before I had to work and slave away in corporate america the rest of my life. I was also thinking I would spend a few years working, and then go to MBA school. But basically, my mind was set, this has to be the happiest time of my life (this is what we are programmed to think, right?)
Summer 2003 – last summer of freedom – I remember thinking, man I gotta jam as much traveling in as possible before I start my job this fall. Each of my "groups of friends" (hometown, college friends) had planned different summer trips.

backpack europe for a month – went to Italy, Switzerland, south France – my college friends were supposed to go, but unfortunately all of them had an "excuse" they couldn't go – but I still did it "solo" (my family in Italy now nicknames me "solo" as they see me traveling alone a lot, and are amazed). I learned so much about myself in this trip, gained confidence that I can travel alone, and that the biggest obstacle in our way is ourselves!

roadtrip across USA – my hometown friend Scott and I drove his pickup from NYC all the way to San Diego, and BACK! We were supposed to go with a few other hometown friends, but just like my college friends, they all had different "excuses" (time, money, permission). This was an amazing trip!

Jamaica trip with Ty – Spent a week in the Caribbean with my college buddy Tayan – he couldn't make Europe, but still wanted to do a trip together. We lived like locals, and had some close call adventures.

I was living life as if it was going to be over soon. And that "over" was working in corporate america, no more chances to travel or adventure.

Fall 2003 – Start work – I remember being so nervous to start my first day at a fulltime job! I am noticing from typing this blog post, I get so nervous starting something new. But I would imagine most of us would, as there are so many unknowns. We are out of our comfort zone, we don't know anyone there, we have to start all new. I did get to go to London for a 1 month training program with other new hires of Deutsche bank, so that helped in getting to know them more.
2003 – early 2007 – working in corporate america in New York City – I was living the dream, right? I was working on Wall Street, living in Manhattan island. This is the top of the top, living the best life possible right? I thought so at the beginning….but my happiness kinda stabilized, I started working part time with my friends Startup Mobatech (mobile apps) and then started my own e-commerce business (New york Bar store) in 2004.

I kept working hard at Deutsche Bank, thinking I wanted to be a trader – I was still in trade support – not an authorized trader, but finally in ….

late 2005 I was transferred to work on the trading floor! you'll see in the chart a drop and then a bump up- this was when I got moved onto the trading floor from upstairs in the management offices. Finally, into the pit, into the action! I thought life was gonna rock, I would move into being authorized to trade soon (I had a broker's license NASD, but bank would only let me relay trades), and I thought this was my track to the top of the world!

Soon I realized its not what I wanted to do. Working 7am to 7pm every day, basically doing the same thing over and over, opening the market, trade settlement, closing the trades. I was told I was too nice. I was given the name "shadow" for being quiet and fast. Coffee in the morning, soda in the afternoon, and beers at night.

Notice the steady decline on the chart.

Late 2006 / early 2007 thinking I had to take the chance, and quit my dayjob. New york Bar store was making enough in money to pay some basic costs. But I couldn't find an agreement from my partners there (had a few friends in the business) and therefore thought to start a new company. NYBS was having trouble buying from China, as well as a few other companies I knew, so I thought of starting a sourcing company to help SMEs buy from China. I took the name "Shadstone" (variation some of the nicer guys on Wall street gave me, but most called me Shadow still) and created Shadstone sourcing!
April 2007 – Started this blog, quit the job! I was less shy to get online, as in corporate america I'd always fear management was watching what I said and did online. My friends on Wall street respected me, to quit such a high paying job. Everyone else wanted to quit, but never did. Most work there for the money. And then you get comfortable. My buddy Greg asked me to start blogging it.
2007 – 2009 – start business in China – what a crazy time! Transition to understanding what I really wanted to do as an entrepreneur. Moved to China. Learned how to do business, and how to do business in China, both at the same time – by making TONS OF MISTAKES!

As far as the happiness chart, this is that up and down squiggly line.

Slowly increasing back in happiness: 2010 to 2011 – this was a rough time, but I think a self-realization time. I had learned how to open a company in China, hire, fire, lay off, contracts etc. I was between Manila and shenzhen. I started doing consulting. Traveling like crazy (more like commuting). But at least I was working towards finding what I wanted.
Jump in happiness in 2012 – not afraid to fail, and willing to let go. I have spent 2012 struggling to focus. Not afraid to be seen as a failure to the blog readers, business associates, friends…and family. Closing down businesses, making hard decisions, but all in all for the greater good. I'm trying to put 100% of my time into Weibo Agent and maybe it will fail miserably, but at least I will have focused on 1 thing, instead of multi-tasking a million things. And I'm not afraid anymore what people may say.
I want to be the man in the arena and its not an easy life.
Liu Yan listened to this, as well as some other mentoring sessions, and she says "Mike, you're a fighter". Yes, I like the sound of that. I will not give up. I will not settle.
Lets see how the adventure continues to unfold.